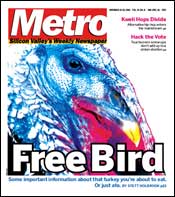 For the Week of
November 24-30, 2004
Cover Story: Talking Turkey:
The real story on the bird that's come to represent American Thanksgiving
News: Dogged Determination
Words and barbs are traded when hounds run free.
I'll Vote Yours, You Vote Mine: Why vote swapping failed in two elections. And why it might work in 2008.
The Fly: This week's political bites.



Biter: Best Barista in the Silicon Valley?
Techsploits: Voting machine fraud?
Rev: For once, Robin made himself useful and built the entire car on his own with a blowtorch.



Hoosiers: 'Kinsey' is a solid and sensitive biography of sex researcher Alfred Kinsey.
Stoned Again: In Oliver Stone's 'Alexander,' history is really just a record of people getting swords thrust in their guts.
Polar Attraction: 'The Polar Express' for all ages.
Swan Song: Franco Zeffirelli's 'Callas Forever': Maria, full of disgrace.
Trent's Last Case: 'The Machinist' is more fun than a movie about starvation and sleeplessness has any right to be.



Just Awake, Dog: Mos Def and Talib Kweli speak from the shadows.
Pimp His Ride: DMC champ Golden Chyld infects the ears with his new mixtape.



Crash Site: A new book explores the words and wisdom of J.G. Ballard.



Darda, My Darling: An unusual Chinese restaurant where there's a lot to like.
Live Feed: Noodle Sleuth.
5 Reasons to Love: Half Moon Bay.



A Glorious Thing: Ballet San Jose Silicon Valley strike gold in Daryl Gray's 'Pirates of Penzance.'
Nuts To You: Reformed potty mouth Sandra Tsing Loh searches for intelligent signs of life during the holidays.
Surviving The Curse: Opera San José overcame glitches to keep Puccini's 'Tosca' on course.
'Heroes' Worship: City Lights goes up, up and away with comic flair in 'Heroes.'



Please don't forget to write! Metro welcomes letters. Like any great work of art, they should be originals — not copies of letters sent elsewhere. Include address and daytime phone (for verification purposes only). Letters may be edited for length and clarity or to correct factual inaccuracies known to us. Postal: Metro Letters, 550 S. First. St., San Jose, CA 95111. Fax: 408/298-0602. . Emailers, please include name, city of residence and phone number. Letters printed will list email address unless otherwise specified. Letters to the editor are not currently published in the online version of this paper.