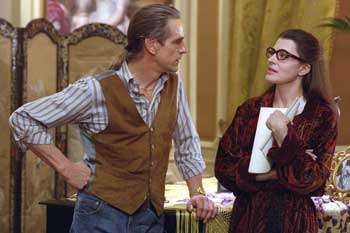 Swan Song
Franco Zeffirelli's 'Callas Forever': Maria, full of disgrace
By Richard von Busack
THE MOVIE Callas Forever starts off on the right foot. As the Clash revs it up on the soundtrack, the jaded Jeremy Irons--with a ratty ponytail, and one of those gross skinny cigars sprouting from his lips--is working his way through the then-futuristic Plexiglas tubes at Terminal One at Charles De Gaulle airport. It is 1977. Unfortunately, director Franco Zeffirelli signifies that time frame with the dowdy color used by some of the cashed-strapped studios of the time.
Now managing a punk-rock band called Bad Dreams, Irons' Larry Kelly decides to reinvolve himself in the career of the legendary opera star Maria Callas (Fanny Ardant). The two had worked together on her unsuccessful final tour to Japan. After some cat-and-mousing by the lady, the two reunite. It's just in time, because the diva is taking too many pills and spending too many late nights weeping over her old records, mourning the decline of her voice. Kelly proposes that the new technology of recording would allow Callas to appear on film as if her voice was young again. She could thus make a film of Carmen, an opera that she never performed in front of an audience. In short, he proposes to enact the overdubbing that scandalizes audiences afresh every time it is revealed, from Milli Vanilli to Ashlee Simpson. Meanwhile, Joan Plowright, with the dogged expression her late husband Laurence Olivier used in late-period films like The Betsy and Inchon, toughs it out as Callas' confident, a self-loathing journalist.
In real life, Zeffirelli actually knew Callas, and the two had talked about a film version of Tosca. Callas withdrew, possibly because of pressure from her tycoon lover Aristotle Onassis, or so believes Callas' biographer Anne Edwards. Myth making about Callas is long underway--Terence McNally made sacred monster of her in his play Master Class, and a rare bootleg of one of her performances is the basis of The Lisbon Traviata. As is evident in Patrice Laconte's Ridicule and elsewhere, Ardant is just about the most elegant woman in the cinema. But she's acting in an unfamiliar language, with a Greek accent hung on her, to boot; and since her singing is dubbed with Callas' vocals, Ardant is robbed of her voice in two different ways.
Zeffirelli's story has it that the company's Don José throws himself at Callas--and the man is so ridiculously pretty that it's hard not to guffaw at the first sight of him. He's a male starlet, and Callas has to apologize to him for feeling desire. Zefferelli really paints a simper on the diva. As for Zeffirelli's imagining of Carmen: the gusty peasant dances and processionals show no evolution in the director's visual imagination since his mid-1960s Taming of the Shrew. In fact there is there is a definitive film version of Carmen, and it's too hard to find already: Francesco Rosi's 1984 Bizet's Carmen with Julia Migenes and Plácido Domingo. Memories of this better movie trump everything here. Meretricious is bad enough; corny is worse.
---
CALLAS FOREVER (Unrated; 111 min.), directed by Franco Zeffirelli, written by Martin Sherman and Zeffirelli, photographed by Ennio Guarnieri and starring Fanny Ardant and Jeremy Irons, opens Friday at selected theaters.
---
Send a letter to the editor about this story to letters@metronews.com.
---
[ Silicon Valley | Metroactive Home | Archives ]