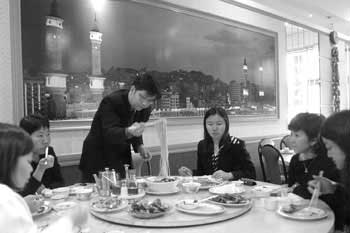 Photograph by Paolo Vescia

Mecca Check Darda Seafood Restaurant's cuisine is from western China, a region that borders Muslim countries.

Darda, My Darling

An unusual Chinese restaurant where there's a lot to like

By Stett Holbrook

SOMETIME in the late 1980s, I stopped eating Chinese food. It had been my entry to Asian cuisine, but kung pao chicken and mu shu pork didn't do it for me anymore. I had moved on to Japanese food and was making my through the exciting world of sushi and soba noodles. Then came the explosion of Thai restaurants. Who wanted a greasy plate of chow mein when you could have an electric Thai salad or sultry pad thai noodles?

And so it went. Next there were flings with Vietnamese and Cambodian food. Chinese food just seemed kind of frumpy compared to these hot young things. But then I realized I'd foolishly dismissed a whole universe of food. My problem was I had been eating at Americanized Chinese restaurants and was missing out on the real thing. Regional Chinese food in all its variety offers endless exploration, and I returned to the well.

In spite of my youthful indiscretions, Chinese food took me back. We're quite happy now. And Darda Seafood Restaurant is just the kind of place to make a Chinese-food lover happy. Darda is an Islamic Chinese restaurant and draws parts of its menu from western China, a region that borders the Muslim countries of Kazakhstan, Kyrgyzstan and Tajikistan. The meat is halal, meaning it was butchered in accordance Islamic law. And there's no pork.

Darda's dining room is cavernous. Signs written in Chinese and Arabic as well as two large photographs of Mecca tell you this isn't your run-of-the-mill Chinese restaurant. Single diners are seated at large round tables. It's a great way to see what others are ordering, but you may second-guess your order as something even better-looking is delivered to your table mate. Given how crowded the place gets, it's amazing how fast your food arrives.

The vast menu, which I barely dented in the course of three visits, offers food you won't encounter at your typical food-court Chinese restaurant. When was the last time you had spicy ox tripe, lamb-cucumber soup or fish-head stew at Panda Express? While some of Darda's menu may seem unapproachable, there's plenty to like.

Steamed dumplings ($4.95) filled with savory, ginger-seasoned beef cloaked in meaty red sauce is a great starter. If you've got a taste for garlic, chicken with ground bean sheets ($4.95) is the appetizer for you. Served cold, the chicken comes with sliced cucumber, gelatinous, soy bean-based noodles and a garlic-steeped peanut sauce. For something a little tamer, hot and sour soup ($6.25) is a satisfying soup perfect for clearing a stuffy nose. One of the most popular items from the small dim sum selection is sesame bread with green onion ($5.95). Served either thick or thin, the round loaf is made from bland white flour, but the sesame seeds and green onion make this soft, steamy bread addictive.

Northern and western China are known for their noodles, and Darda's are excellent. Look around, and it appears that most people are slurping down noodles. Three-flavor hot noodle soup ($6.75) combines shrimp, squid and beef and vegetables in a deep, rich broth. Beef chow mein with homemade noodles ($6.25) features lean slices of beef and fat, flat and chewy knife-shaved noodles. To make these, the cook cuts raw noodles from a block of dough and drops them in boiling water. Each noodle is a slightly different size, and their rough surface is great for soaking up the surrounding sauce.

Darda's menu includes several lamb dishes, a hallmark of western Chinese food. Chinese pickled cabbage with spicy lamb ($8.25) is great. The pleasantly sharp cabbage offsets the rich flavor and texture of the meat. There are dozens of seafood dishes, too. Black cod, which is in high demand these days, caught my eye. But the garlic and bread crumb-topped black cod with beans ($17.95) didn't showcase the fish's succulent, sweet flavor very well.

If you never abandoned Chinese cuisine, Darda Seafood will confirm what you already know about the range and quality of regional Chinese food. And if you're coming back to the fold, the restaurant is a great place to taste what you've been missing.
---
Darda Seafood Restaurant
Address: 296 Barber Court, Milpitas
Phone: 408.433.5199
Hours: Mon-Thu 11am-2:30pm and 5pm-9:30pm; Fri-Sun 11am-3pm and 4:30pm-9:30pm
Cuisine: Islamic Chinese
Price range: $6-$22
---
Send a letter to the editor about this story to letters@metronews.com.
---
[ Silicon Valley | Metroactive Home | Archives ]