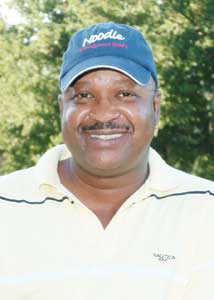 The Fly
Mann Overboard
The knives sharpening this time of year are not only for Thanksgiving turkeys, but for Councilman Terry Gregory, who's the target of a cascading wave of investigations surrounding donations to a fund he manages for district activities, hondling for baseball tickets and accepting a half-case of expensive wine from a shopping center owner. Sterno was dumped on the controversy by a wrongful termination claim by his former chief of staff Craig Mann. Oddly, Mann wants his job back, even though he waited almost a full year to press his grievance and claims he fears for his physical safety because he says Gregory once remarked that he could pay a crack head $50 to eliminate an adversary. (Our sources at crack central, however, inform us that the going rate is currently about 200 times that amount, which is cost-prohibitive on Gregory's government salary.) According to city policy, wrongful termination claims should be filed within six months of the firing, which puts City Attorney Rick Doyle in a position to accept or deny Mann's claim; he has 45 days to act. Doyle says he "doesn't know what to do" with Mann's crack head comment. Mann's contention that he was persecuted could be undermined by the fact that two impeccable Fly sources confirm that Mann solicited and received a warm letter of recommendation from Gregory earlier this year, as well as by Mann's own desire to have his job back. Mann is likely to testify at city hearings on the Gregory matters. He also may be talking to the DA's office, who we hear has put pit bull Julius Finkelstein on the case. Since Juicy never shoots to wound, that may not be good news for Gregory. Also switching teams is former Gregory staffer Scarlett Li Lan, who resigned from his employ on Friday. Gregory won't touch the subject, saying it's a personnel matter, though the Sixth Floor buzzes that Lam is ticked about some issues related to pay and position. Lam says she is going through her calendar and notes and plans to testify "truthfully" and "under oath" at city hearings about what she knows, and believes that the hearings are "a good idea." She discloses, though, that she "did not witness any conversations" related to alleged influence-peddling by the District 7 councilman. She also didn't know about the Opus One wine caper until she read about it in the local daily, and doesn't know if Gregory ever solicited a gift or if any special treatment was promised to Walmart when the retail giant took over an ex-Kmart building in the district. "We did not talk about it in the office," she says, but considers the allegations "very serious." Lam, who says she was "definitely not fired," is now pursuing her doctorate in business administration at UC-Berkeley. Though guarded but talkative during a telephone interview, she fell uncharacteristically silent when asked if she resigned after failing to win the chief of staff job. She won't even confirm if she sought the position, or more money, after Mann left. "Can I just skip that question?" she pleads.
Cortese Hungry Too
All the attention went to SJ's Mormon Police Chief Rob Davis, who spent the past 30 days fasting as a symbolic gesture to the Islamic community. The daily wrote three stories about the chief and he appeared in a Fly column several weeks ago. Meanwhile, District Councilman Dave Cortese also swore off food and drink for Ramadan but received no ink at all. The reason, according to an aide, was that Cortese preferred his abstinence to remain quiet. The councilman was apparently no worse for the wear. He's a light eater anyway.
---
Send tips to 'The Fly': .
---
---
Send a letter to the editor about this story to letters@metronews.com.
---
[ Silicon Valley | Metroactive Home | Archives ]