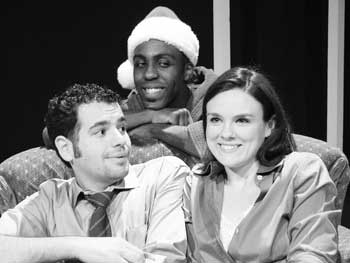 Photograph by Holly Cornelison.

ECONOMY RECOVERY Kenneth (Ori Zadok), Ray (Cyril Cooper) plot their way out of unemployment with some help from Kate (Jessica Carroll) in 'Heroes.'

'Heroes' Worship

City Lights goes up, up and away with comic flair in 'Heroes'

By Marianne Messina

IT LOOKS like superheroes are in the air this season (where else would they be?). Well, they could be running in place while scenery flows behind them, like characters from an old-school cartoon. City Lights' quite ingenious production of Heroes manages to recapture this herostalgia while telling a pretty good story. Think Batman and Robin with the music to old spy thrillers on a set cut from your favorite comics and toss in mock cinematic effects from the unlikely hero movie archives.

Heroes starts with an unemployed Ray (Cyril Jamal Cooper) trying to get his roommate, Kenneth (Ori Zadok), to hear him out. Ray claims he's got the solution to his unemployment problems. Kenneth bites--after all, he's been carrying Ray's share of the rent. The plan that Ray unfolds (with longwinded build-up about needing Kenneth's help) is this: The two should become superheroes--as in caped costumes and trolling for trouble in the night. The ensuing argument has Ray insisting, against Ken's pragmatic opposition, that the preposterous is advisable, and the humor takes off with extra fuel from the chummy chemistry between Cooper and Zadok.

Since Ray is one of those potentially irritating people who lives and lectures his idealism, it's kudos to Cooper for keeping him not only fascinating but likable. Cooper's Ray is more about eagerness than stubbornness. In other words, he's the guy you play along with just for the chance to see him in action. As straight man to Ray's quirky zeal, Zadok adds a kind of warmth to the frumpy, late-20s boy-man who's just realized he has "settled" in life.

Fortunately, there's a serial strangler on the loose to coax the superheroes out of pre-tirement. Even so, it feels abrupt when Ken's take on the superhero plan suddenly goes from "You're tripping" to "Where do I sign up?". Playwright Jonathan Brady (who was in the audience for this performance) could probably have notched up the laughter level even higher if he'd let Ken's resistance dissipate over several more exchanges. The setup is too delicious to rush from.

Director Leslie Martinson took some risks in attempting to spoof both animation and cinematic FX theatrically, but the risks paid off big time. Those bits were hilarious--the superheroes run frantically in place while being chased; a dramatic shoot-out occurs in slow motion; the spot-light freezes characters in unlikely poses and action scenes turn into comic frames. And since Hollywood code dictates that every unlikely hero must train for the big showdown through weeks of self-torture, Heroes has provided a belly-laugher of a hero-in-training sequence.

This show's production team has it together. Tight coordination between scene and light designer Michael Palumbo and sound designer Steve Schoenbeck under Martinson's intuitive eye bring these sequences off roundly. Heroes is the whole package, from Schoenbeck's soundtrack, a compilation of theme-song remakes (Secret Agent, Speed Racer, Underdog, Batman, etc.), to Palumbo's neat, angular comic-strip setting to fight (and murder) choreography by Kit Wilder that captures comedy and intensity at the same instant. Some of these bits brought the audience to a roar in a production as tight as I've seen at City Lights. It bodes really good things for the company's future.
---
HEROES, a City Lights production, plays Thursday-Saturday at 8pm and Sunday at 7pm (no show Nov 25; a special 2pm show Dec. 19) through Dec. 19 at City Lights, 529 S. Second St., San Jose. Tickets are $17-$28. (408.295.4200)
---
Send a letter to the editor about this story to letters@metronews.com.
---
[ Silicon Valley | Metroactive Home | Archives ]