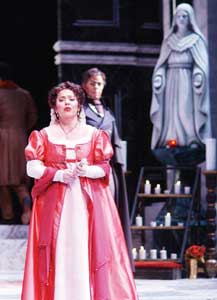 Sacred and Profane: Scarpia (Joseph Wright) has feelings for Tosca (Deborah Berioli) that make him doubt his faith.

Photograph by Pat Kirk


Surviving The Curse

Opera San José overcame glitches to keep Puccini's 'Tosca' on course

By Scott MacClelland

IF ALL GOES WELL at a performance of Puccini's Tosca, the three principal characters merely die. But the age-old "Tosca Curse" often conspires against such a straightforward outcome, and Opera San José's new production was no exception. On Saturday night, tenor Adam Flowers was felled at the end of Act 1 by a nasty cold; his alternate from the other cast, Etsel Skelton, was hauled in by phone call to sing the big Cavaradossi role in Acts 2 and 3.

Next, according to publicist Christine Spielberger, the Sunday-afternoon performance was almost cancelled due to electrical problems resulting from the windstorm the night before. But the show went on as planned (with Skelton, the scheduled Cavaradossi, singing the entire performance.) Then, soon after the start, a technical malfunction suddenly rapid-fired the projected supertitles through all dialog except the last scene, arousing guffaws in the gallery.

The Victorien Sardou melodrama is not supposed to be funny. But someone apparently forget to tell Jesse Merlin, whose sacristan character in Act 1 was played with over-the-top buffoonery, more appropriate to Gilbert and Sullivan. Putting it next to Skelton's first big aria, "Recondita armonia," which he sang without ardor, resulted in caricature, times two. Skelton has a considerable talent--a sweet voice, full tenor range and winsome ping--but not the dramatic characterization demanded by tragic opera.

At last, Deborah Berioli appeared as Floria Tosca. Taking her cues initially from Skelton, she, too, held the drama down, notwithstanding a well-developed love duet. But when Joseph Wright appeared as the evil Scarpia, the drama suddenly intensified, and Berioli raised her game as well. In the powerful finale, with the faithful intoning "Te Deum" while Scarpia declares, "Tosca, you make me forget God," the California Theatre's mighty Wurlitzer underscored the small orchestra.

The set of onyx columns with gilt and marble capitols was minimally revised to convert the church of Act 1 into the Palazzo Farnese for Act 2. Therein Scarpia played his cat-and-mouse game whose goal was to bed Tosca (and dispatch Cavaradossi). Wright and Berioli etched two compelling characters, he with cruel authority, she with sustaining sympathy. Her "Vissi d'arte" was at once gripping and despairing. And she made the transition from helpless and vulnerable to quick-acting assassin seamless and convincing. While the Scarpia was given an aristocratic bearing most of the time, lapses into uncouth actions were gratuitous; his vulgar words made the point best.

Act 3 delivered an improved Skelton, though for want of a more persuasive actor and dramatic singer he remained the weaker of the three principals. His "E lucevan le stelle" promised more than it delivered. Once again, Berioli carried the scene. Another note to the stage director: the condemned would not credibly be allowed to wander about, unshackled and ignored, as this one was. Conductor Robert Wood skillfully paced the orchestra for dramatic and musical effect, missing only the symphonic weight that gives this opera its desired extra impact. Baritone Roberto Gomez's Angelotti was vocally potent; of Scarpia's men, Bill Welch was an ambivalent Spoletta and Carlos Aguilar a stolid Sciarrone.
---
Tosca, an Opera San José production, plays Nov. 27, 30 and Dec. 2-3 at 8pm and Dec. 5 at 3pm at the California Theatre, 345 S. First St., San Jose. Tickets are $60-$80. (408.437.4450.
---
Send a letter to the editor about this story to letters@metronews.com.
---
[ Silicon Valley | Metroactive Home | Archives ]