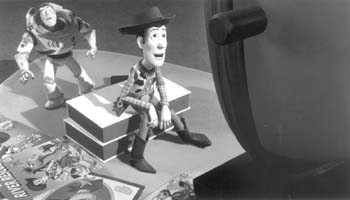 Buzz Awhile: Buzz Lightyear attempts to rescue Woody from a nostalgic reverie in 'Toy Story 2.'

Toys Will Be Toys

John Lasseter, defender of plastic playthings, returns to tell a brand-new 'Toy Story'

By

FEW FILM FANS will be surprised to hear that John Lasseter--the mild-mannered creative genius behind the computer-animated hit film Toy Story--is, and has always been, an enthusiastic devotee of toys. Yes, he's a toy fan, a toy defender, a toy advocate, a toy sympathizer, a fiercely passionate apologist for toys. He identifies with them, and he feels their pain.

"I love toys," crows Lasseter. "I'm just a big goofy kid at heart when it comes to toys."

No surprise there. Lasseter has created three major toy movies already (not to mention the heavily merchandised A Bug's Life). He co-wrote and directed the ultimate toy movie, the aforementioned Walt Disney/Pixar Studios megahit Toy Story, as well as its upcoming, equally toy-happy big-screen sequel Toy Story 2, and way back in 1988 he made his first film told from a toy's perspective: the charming Oscar-winning, computer-animated short Tin Toy.

Then there's the matter of his very own toys.

Lasseter's personal stash--several floor-to-ceiling shelves' worth--is a toy collector's wet dream: hundreds of vintage one-of-a-kind tin toys, Hot Wheels, G.I. Joes--and lots of Toy Story toys, all currently residing in Lasseter's office at Pixar, in Pt. Richmond.

"My boys love to come to work and play with Daddy's toys," Lasseter says, laughing. "They're like bulls in a china shop. I just freak out." It was his sons' rambunctious relationship to their dad's office toys, in fact, that gave Lasseter the first germ of a story for Toy Story 2. But more on that later.

A QUICK PERUSAL of the facts reveals that Toy Story 2 has an additional distinction: it's only the second animated Disney film to receive a big-screen sequel. (The first was 1977's The Rescuers, which was followed in 1990 by The Rescuers Down Under. Follow-ups to such films as Beauty and the Beast, The Lion King and Aladdin have all been released directly to video.)

"First, we came up with a story for the sequel," Lasseter says, confessing that his writers viewed such high-quality sequels as The Godfather, Part II and The Empire Strikes Back for inspiration. "And based on the strength of the story we came up with and the enthusiasm of Tom Hanks and Tim Allen, all of us at Disney and Pixar decided that this was a film that really belonged on the big screen."

Indeed. The big-screen sequel--released Thanksgiving week--is a delight, a remarkably inventive film that stands among the very few sequels in movie history that is actually better than the original.

Left alone for the summer while Andy, the freckle-faced boy from the first film, goes off to camp, the toys from Andy's room--Mr. Potato Head (voiced by Don Rickles), Slinky Dog (Jim Varney), Dinosaur (Wallace Shawn) and, of course, Woody (Tom Hanks), the pull-string cowboy doll, and Buzz Lightyear (Tim Allen), who is newly acclimatized to the idea of being a toy, rather than an actual space ranger--anticipate an uneventful few months.

When a toy collector kidnaps Woody (the tightly wound cowboy, it turns out, is a valuable collectible, a 40-year-old toy from an old Howdy Doody-esque TV show called Woody's Roundup), Buzz and company must leave the safety of Andy's room in a danger-filled attempt to save their friend from becoming a permanent museum piece.

When they finally get there, however, Woody--always saddled with a bit of an insecure streak--has grown to like his newfound collectible status and his association with other Woody's Roundup merchandise, mainly Stinky Pete the Prospector (impressively voiced by Kelsey Grammer) and Jessie the Yodeling Cowgirl (Joan Cusack). This time around, it's Buzz, speaking to Woody, who gets to mouth the famous lines from the first film, "You ... are ... a ... toy!"

Crammed with plot twists and emotion-packed, multidimensional characterizations, Toy Story 2 is visually stunning as well. Lasseter and company have created a series of landscapes, all seen from a toy's low-to-the-ground perspective.

The movie takes a new direction musically, too. While Randy Newman is back as the film's songwriter, once again offering songs that are played as commentary to the action, a bizarre and eclectic group of performers has been assembled to do the singing: crooner Robert Goulet putting a big-band spin on You've Got a Friend in Me; and the pitch-perfect cowboy trio the Riders in the Sky yodeling and harmonizing on Woody's Roundup (the theme song to Woody's long-gone TV show).

According to Lasseter, it was by accident that he discovered the Riders--an admittedly eccentric, just-outside-of-the-limelight Nashville act that has been performing for more than 20 years.

"We basically found them on the Internet," Lasseter laughs. "An associate downloaded one of their songs, and we were amazed at the coolness of their sound, that real authentic cowboy sound. So we went out and got a lot of their discs and listened to them all and said, 'This is them.' "

As for the Riders, who perform a three-and-a-half-second snatch of yodeling in the song, they're tickled to be introducing that old-fashioned singing cowboy sound to a generation that has never heard cowboy singing, to say nothing of yodeling.

"It's a great responsibility," laughs guitar-playing front-man Ranger Doug, "but fortunately we have broad shoulders and years of experience, so we can carry that responsibility." Hearing estimates that Toy Story 2 will be one of the highest-grossing sequels in history, Ranger Doug beams. "I'm countin' on it," he says. "I just went out and bought Pixar stock."

IT'S HARD TO BELIEVE that just a few years ago, when word first got out that Disney was preparing a computer-animated feature called Toy Story, a number of industry critics suggested that Walt Disney--the hallowed progenitor of large-scale, handcrafted animation--might be spinning in his grave.

Lasseter still cringes to hear such remarks.

"Are you kidding? Walt would have loved computer animation, from the moment he saw the first image of it," Lasseter says. "He'd have loved what this medium is capable of. Walt was an innovator, a man who pushed technology to its limits in finding better and better ways to tell a story. And first and foremost, Walt Disney was a brilliant storyteller."

And besides, Walt loved toys. Which brings us back to Lasseter's own toy story.

"When my kids come in to play with my toys," he explains, "I have to laugh at the way I react. I have to tell myself, 'Hey, John, didn't you learn anything from the first movie?' Toys were put on this earth to be played with. Just because some guy named Tom Hanks happens to have autographed my Woody doll doesn't mean the toy deserves to be locked away on a shelf.

"And one day I thought, 'Hey. That's a great idea for a story. What if Woody discovers he's a collectible and forgets what it means to be a toy?'"

Now Lasseter is really warmed up. "Toys don't belong on shelves for years at a time," he passionately relates. "What kind of life is that for a toy: to never again be played with by a child? Even more tragic, imagine being outgrown by a child, something that eventually happens to every single toy.

"Think about it. That's a toy's version of mortality."

An impressive argument. So, do Lasseter's boys get to play with the goodies now?

"Sometimes," he laughs. "But I get to play too."
---
Toy Story 2 (G), directed by John Lasseter, co-directed by Colin Brady, Lee Unkrich and Ash Brannon, written by Andrew Stanton, Rita Hsiao, Doug Chamberlin and Chris Webb and starring the voices of Tom Hanks and Tim Allen, opens Nov. 24 valleywide.
---
[ San Jose | Metroactive Central | Archives ]