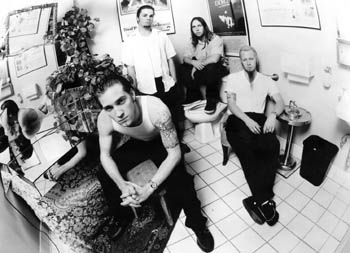 Lit keeps its career from being flushed.

Staying Lit

The rock band road-tested new songs at the Edge

By Sarah Quelland

DESPITE PARTING WAYS with RCA Records earlier this year, Lit remains undeterred. The band recently hit the road to test out new material for a new album due out in March or April of 2004. Lit's popularity ignited with the success of "My Own Worst Enemy" from its 1999 RCA debut, A Place in the Sun. The Orange County band captured something fresh and exciting on that record with its hard-pop bounce and the inventive approach to lyrics found in songs like "Miserable" and "Zip-Lock."

Last Thursday (Nov. 20), the band hit the Edge with Mind Driver and the Matches in tow for an enthusiastic and energetic night of upbeat pop, punk, rock and even a power ballad. Lit kicked off with a new one titled "Too Fast for a U-Turn" before jumping into "Four," the first track on A Place in the Sun. Lit's set was split almost evenly between old and new material, and the new stuff was met with almost as much approval from fans as the more familiar songs.

Still, with the exception of "Looks Like They Were Right," Lit seems to have eased up on its signature bounce. "Too Fast for a U-Turn" has a big rock & roll sound, complete with cowbell. Meanwhile, "Lullaby," a song written by guitarist Jeremy Popoff for his young son, Jake, is a classic '80s power ballad.

The band seemed to have a good time at Thursday's show. Midway through, everyone but Jeremy left the stage while he took a long, wailing guitar solo that ended in strains of Jimi Hendrix's "Star-Spangled Banner" while pounding a bottle of beer. Later, the band would play part of Black Sabbath's "Sweet Leaf." After playing new songs "Over It" and "Throw Away," along with highlights from A Place in the Sun ("Zip-Lock," "Miserable") and its follow-up record, Atomic ("Lipstick and Bruises," "Something to Someone"), the band closed with "My Own Worst Enemy."

Just when it seemed the group wouldn't return for an encore, bassist Kevin Baldes came back out and started chatting with the crowd. When the rest of the band emerged from backstage, singer A. Jay Popoff told the audience they were going to practice a new song that they'd only played a couple times live. The band ended with "Times Like These" and "No Big Thing."

With no label, the band is taking an independent approach to getting its music heard. New songs "Too Fast for a U-Turn," "Lullaby" and "Looks Like They Were Right" can be downloaded for 99 cents each on the band's website, www.litlounge.com.

HOT TOPIC: Saratoga native, strict vegan, noted animal-rights activist and Goldfinger frontman John Feldmann has been honored with People for the Ethical Treatment of Animals' (PETA) very first Proggy Award for Musician of the Year. Proggy Awards recognize outstanding achievement in progress toward cruelty-free, animal-friendly lifestyles. Feldmann uses his punk-rock popularity and is constantly working to increase awareness of animal suffering through various forms of protest and grassroots campaigns. In particular, the video for Goldfinger's "Free Me" (a bonus on its Open Your Eyes album), which shows footage of factory-farm animals being tortured and slaughtered for meat, has swayed many viewers to adopt vegetarian or vegan diets. Visit www.goldfingermusic.com or www.peta.org. ... Local female-fronted pop-punk band emaneht landed in the Shark Tank. Apparently, the San Jose Sharks' music director Mike O'Brien took a liking to the band's song "Overreacted" (off debut album Girl on Top) and quickly added it to the Sharks' stockpile of music to razz opponents and celebrate Sharks' victories. The band plays Dec. 6 at the Quarter Note in Sunnyvale. Its second album, The name is emaneht, is due out next year. ... Following a lengthy hiatus, local urban-blues band NiteCry regrouped and just won a spot on the main stage at the 19th-annual Monterey Bay Blues Festival, scheduled for June 25-27, 2004. NiteCry's current roster includes Scott LaMantia, Richard Palmer, René Solis, Steve Siacotos and Johnny Yu. Visit www.montereyblues.com. ... LIVE 105 starts broadcasting from the Metreon in San Francisco this Friday (Nov. 28) as part of its second-annual Studio 105 series. The series kicks off with special guests the Network. Visit www.live105.com or listen to win passes to upcoming Studio 105 events, which run through Dec. 28.
---
Send a letter to the editor about this story to letters@metronews.com.
---
[ Silicon Valley | Metroactive Home | Archives ]