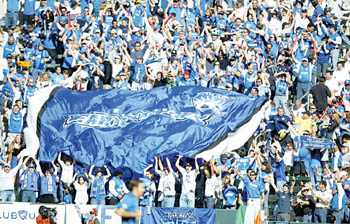 Photograph by Andy Mead/YCJ; www.ibiblio.org/footy

Biter

Screaming Blue

Trying to keep cool at the Quakes game

By

IT'S PRETTY difficult--and no fun either--to maintain journalistic composure when hunched over a laptop surrounded by fans swilling beer and screaming for the Boys in Blue. But that's exactly what Biter was attempting last Sunday, when the San Jose Earthquakes won their second MLS Championship in three years. Biter had gotten this sweet little job on the side, covering the Quakes for Slide Tackle Magazine (www.slidetacklemagazine.com).

The game took place at the brand new Home Depot Center in Carson, Calif. (That's in south L.A. County for you NorCal types). To cover the match, we grabbed a last minute flight to La-La Land and shacked up in the Torrance Marriott, which happened to be the same place the team was staying. Biter was so disorganized with this adventure we had to bum a ride off the Oakland Tribune's Dennis Miller (no, not that Dennis Miller) just to get from the hotel to the stadium. At the game itself, nondaily journalists got stuck in the auxiliary press box, just above sections 126 and 127--the sections where all the fans from San Jose were screaming, singing, drinking and sporting blue.

What was it like to sit there in the "aux box," quiet as an impartial journalistic dove, while hearing the thundering drums and raucous chants from beer-guzzling fans decked out in Earthquakes jerseys? Cruel and unusual punishment, we say. In fact, just having to be in Carson, Calif., for two days is cruel and unusual punishment. At this match, we didn't belong in the press box. Biter belonged with the boisterous San Jose fans and the $7.75 Home Depot Center beers. How in tarnation do you cover your own favorite team and not go ape-shit when they win an unprecedented match like that? Veteran sportswriters must have a way to deal with this syndrome. Separate your emotions from your job, they say. It's that simple. Biter says hell no.

Just to rattle off one example: on Sunday, Nov. 9, the Quakes pulled off a larger-than-life comeback victory over the despised Los Angeles Galaxy, turning around a four goal deficit to win the two game playoff series 5-4. This type of turnaround is unheard of in soccer and almost everyone considered the match to be the best game in the league's eight-year history. When Rodrigo Faria scored the winning goal in overtime, everyone in the press box leaped into the air and applauded--which, of course, is a big no-no if you're trying to be an impartial journalist. Cheering in the press box isn't allowed.

The Quakes have now won two championships in three years. With other Bay Area sports franchises accomplishing pretty much nothing as of late, one has to wonder if this will do anything for San Jose.

"I hope it does something," said Landon Donovan after taking a slug of champagne in the locker room afterwards. "I watch The Last Honest Sports Show and some little chubby guy sits there and makes fun of us the whole time, so I don't know. Those people are a bit ignorant, and I hope they finally realize that there's something to be happy about in sports in the Bay Area."

Biter agrees, but we may have to seriously reconsider our role in the press box next year. After the game, we accosted Jeff Carlisle of QuakeMagic.com for a ride back to the Marriott and then infiltrated the bar, where Earthquake players and fans celebrated and carried on into the night. By then, the laptop was long gone, and we joined in with gusto.
---
Send a letter to the editor about this story to letters@metronews.com.
---
[ Silicon Valley | Metroactive Home | Archives ]