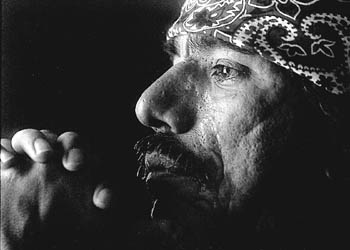 No Mas: Roberto Tinoco Duran shares the name and tenacity of the famed welterweight boxer.

Words of Stone

San Jose poet and jazz musician Roberto Tinoco Duran serves up a thought-provoking slice of homemade 'Poetry Pie'

By Jesse 'Chuy' Varela

"TODAY, THERE will be no news," declares poet Roberto Tinoco Duran from the stage of the SJSU Music Concert Hall. "No therapy, no blues. Today, there will be no propaganda."

As part of the October World Peace Concert organized by Eddie Gale, Duran paces the stage injecting short poetic riffs over music provided by a young quartet of students. A shuffle beat sets a rhythmic pace, and Eddie leads the students, snapping his fingers and interspersing his magical trumpet sound.

Both men are masters who have endured hard knocks for their art: Gale is a jazz legend who recorded for Blue Note Records and played with Cecil Taylor and Miles Davis; Duran is a homegrown, internationally recognized and published Chicano poet. As they exchange musical and verbal prose, their improvisational conversations are uplifting with beatnik word-jazz metaphors.

"Never become accustomed," says Duran as Gale follows with an open-bell bebop riff. "Never become a costume to anyone--a potion, emotion, a fashion, someone's wear. And above all, [be] careful of becoming a cool customer."

The audience applauds, and Eddie drops in a short but sweet bluesy motif. Duran stands grounded by cowboy boots with metal tips. He lifts his arm and begins another burst of inspired verses: "Never address a suit or a dress undressed. Or worse, confess or consider one's self less. Beware of those garbs with sharp barbs that have no point." Like a shaman casting a spell, he bends at the knee and turns, pointing to the drummer, who emphasizes "point" with a cymbal crash. He then returns, facing the audience with a wave of his arm--in tandem with his long flowing gray hair, it looks as if he is unraveling a cape.

An organic, self-taught California writer of Mexican descent, Roberto Tinoco Duran, 50, is a survivor whose life experience forced him to find an outlet for the voices he heard inside his soul. Born in Bakersfield and raised in Delano (until age 7), Duran came over Pacheco Pass with his family to settle in San Jose in 1959. He only spoke Spanish and endured taunts of "wetback" from more Americanized Chicanos.

"It was the first time I heard the word 'wetback,'" he says. "It was very crazy, but I became determined to learn the English language as best I could so I could communicate."

In 1968, Duran attended James Lick High School. He got involved with the MAYO (Mexican American Youth Organization) Club and became its chairman. Their activities included running food caravans to Delano to support the struggle of Cesar Chavez and the United Farm Workers Union at a time when the '70s Chicano movement was raising the consciousness of a young generation to fight social injustices like police brutality.

Duran became a youthful leader and enrolled at San Jose City College. There, he joined the activist group Somos Raza and started organizing students. Roberto came into the movement on the coattails of a Chicano artistic renaissance happening around San Jose in the late '60s and '70s. Artistic and literary figures Amelia Mesa-Baines, Lorna Dee Cervantes and Luis Valdez emerged from that wave.

Along with the movement came a pachuco-evolved street-culture phenomenon known as "lowriding." The intersection of Story and King streets became the Northern California mecca of tricked-out street scrapers. It also brought police harassment and brutality against young Chicanos, and Duran spoke out with furious anger. In 1977, he was convicted of assaulting a police officer and spent four years in Soledad State Prison.

"I took out my anger on police officers because of the way they brutalized people," he says. "They had broken my spirit, and this hate surfaced. I wanted to get rid of it and did it physically against the police, which was a very dangerous thing to do."

It was in Soledad that he found his voice as a poet and became driven to write--assembling his thoughts on police brutality and discrimination. When he got out in 1981, he took his $200 gate money and went straight to Foothill Printers with plans to self-publish his first collection, A Friend of Sorrow.

"The guy working there sized me up as I explained to him what I wanted to do," remembers Duran. "He chuckled and said, 'Don't be disappointed if nobody buys your book.' I told him, 'Don't worry about who is going to buy my book. I have something to say. Are you going to help me? I got $200 dollars right here.' Soon I was saving money by copying, stapling and collating my book and even got some extra copies tossed in."

From there, he stepped into San Jose State University as a student--not an easy fit for a "paroled, tattooed troll" as he refers to his earlier self. He didn't give up. He put out two more books in the '80s--Triple Crown and Reality Ribs. Duran went on to teach poetry at every school level and to lecture at Cornell University and Lincoln Center. He has since been published in 20 poetry journals across the country and abroad. A documentary about his life, 86'd Again, played a San Diego film festival in 2001.

Now Roberto is entering a new chapter with his poetry by fusing it with music. On his self-produced Poetry Pie CD, Duran plays words like an instrumentalist. His rhythm, swing and articulation flow with seasoned delivery on this groove-oriented blowing session. Poetry Pie serves up four "slices," as the tracks are titled, that have Duran riffing between solos by trumpeter Jerry Melendez and saxophonist Danny Grijalva. The rhythm section sets a firm foundation with solid funk-bebop beats provided by Michael Jackson and bassist Joseph Aldama. The keyboards of Joaquin Aldama add the important colors of jazz harmony and a '70s-era Headhunters keyboard texture.

"Slice #1," the opener, is an ode to Duran's life in San Jose. Actual San Jose street names like Coleman, East Hills, Hedding and Trimble make up the verses and set the tone for the Poetry Pie epic. His word songs resonate from a contemporary poetic viewpoint floating over a strong, African American musical carpet trimmed by the blues, R&B and gospel. Just don't call it spoken word.

"I respect spoken word. but to me, it's redundant," he says. "It's two words--like it's broken or something. What about the unspoken word? What about all the screams? What about what happens in between the pause."

Poetry Pie is available at Streetlight Records, Raices Bookstore and via Duran's website (www.robertotinocoduran.com). As for Duran, he considers himself a literary artist--regardless of medium.

"As a poet, I never expected to be on a CD. It's exciting to me. I am experimenting and finding a voice mixing mediums. It's a good journey. But I am still a poet. The anger is still there, but I have found different, softer ways of saying things. Now I see other factions, a worldview more or less, of the commonalities we all have in struggle."
---
Send a letter to the editor about this story to letters@metronews.com.
---
[ Silicon Valley | Metroactive Home | Archives ]