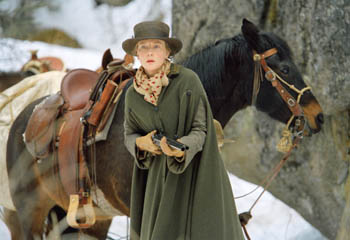 Photograph by Eli Reed

Ride a Pale Horse: Cate Blanchett channels John Wayne as she searches for her kidnapped daughter in 'The Missing.'

Cate in the Hat

Gunfight at Archetype Junction: 'The Missing' is Ron Howard's kettle of 'Prairie Chicken Soup for the Soul'

By Richard von Busack

THE SEEMINGLY perfect equation of Cate Blanchett plus rifle plus horse plus New Mexico doesn't pay off. The Missing has the same problems seen in the last men's-movement Western, Open Range. It takes a perfectly good piece of entertainment and Oscarizes it. The Missing, just like Open Range, talks itself silly. The Western is a species of film in which significant glances do all the work. Do we really have to know all the reasons this family of 1885 is ill at ease with each other? Isn't it other people in general, and bad families in particular, that made Westerners decide to go live in the wilderness?

Director Ron Howard's movie uses a standard pursuit plot; it ought to be credited as "Based on a DVD viewing of The Searchers." All the undertones present in the John Wayne/John Ford classic are spelled out, as if The Missing came with its own commentary track.

Blanchett plays Maggie, a small-scale New Mexico rancher who does a Dr. Quinn business on the side, pulling teeth and steaming herbs. We can assume her too-nice live-in (Aaron Eckhart), named "Brake" (brake on the action), will not survive the first third of the movie, especially after seeing a capital-A Alpha male ride up. The stranger is named Jones (Tommy Lee Jones), and he is the estranged father whom Maggie hates and dreads. This long-haired Renaissance man draws sketches and speaks fluent Apache (difficult irregular verbs there).

Like Billy Jack before him, Jones has a kind of mystical thing for rattlesnakes and raptors. He's just the man to help track the Apaches who have stolen Maggie's yellow-haired daughter (Evan Rachel Wood), intending to sell her in Mexico. Off go the estranged father and daughter, escorted by the young granddaughter, Dot (Jenna Boyd).

The mechanical parts of this Western aren't a disappointment, with a horseback chase over the white-sand flats at Zia Pueblo and a shootout at the rocks of Hourglass Gap. Deadly slow and solemn as it is, The Missing delivers some of the pleasures of a classic Western: the landscapes, the horses and a fine villain: an Apache slaver named Pesh-Chidlin, played by the powerful Inuit actor Eric Schweig. Schweig cuts a nightmarish figure, scarred with smallpox and decorated with tintype photographs, worn like medals. He has that trick that characters in Westerns need, of appearing about 7 or 8 feet tall. (It was being in the U.S. Army that made Pesh-Shidlin and his gang so bad, we're told in politically correct asides. Look at this devil and guess that the Army had a foundation to build upon.)

Still, scriptwriter Ken Kaufman's leave-no-child-behind level of storytelling is taxing enough, without mentioning Howard's slowpoke, technically unexciting direction. And ultimately the idea of a lone Western woman getting her gun is eclipsed by Jones' damply all-knowing qualities as a dad. Rather than showing us that glorious Western-movie attraction between the strong and silent, the film's all about the riding wounded.
---
The Missing (R; 130 min.), directed by Ron Howard, written by Ken Kaufman, based on the novel by Thomas Eidson, photographed by Salvatore Totino and starring Cate Blanchett and Tommy Lee Jones, plays at selected theaters valleywide.
---
---
Send a letter to the editor about this story to letters@metronews.com.
---
[ Silicon Valley | Metroactive Home | Archives ]