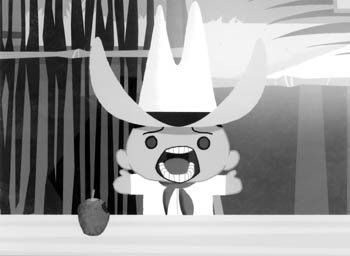 The Doctor Is In: Breehn Burns and Jason Johnson's 'Here Comes Dr. Tran' is one of the many animated shorts in this year's 'Sick & Twisted' compilation.

Scratchy

Why are cute animals born to suffer? 'Spike and Mike's Sick & Twisted Festival of Animation 2003' knows the answer.

By Richard von Busack

THE MOTTO of Spike and Mike's Sick & Twisted Festival of Animation 2003 might be "All things cute must perish in agony." Could be a worst manifesto, though today's crop of animators strangely prefer violence to sex. A sweet exception is Peepshow, by San Jose State University's own Debbie Bruce and Natalie Repp, in which marshmallow bunnies carry out a Busby Berkeley orgy to a Clockwork Orange-style speeded-up rendition of The William Tell Overture. This funny bunny pile is more of a pleasure than the five installments of the overpraised Happy Tree Friends, San Francisco-based Internet cartoon Hallmark-style funny animals, the heirs of Frank Kozik and Itchy & Scratchy.

Of the nearly 20 cartoons on view here, a few have the earmarks of audition reels. Some basically show different moods of a character, even at the expense of losing the momentum of the cartoon. Here Comes Dr. Tran is a standout, for all of its "illustrated-radio" technique and its belaboring seven-minute length. It satirizes the shove-it-down-your-throat method of advertising movies--a small and fragile Asian child is sold, by a booming narrator, as a dick-wielding, red-blooded action hero.

Billy's Balloon, by Don Hertzfeld, is an errant rerun, having appeared in several previous S&M fests. It's evidence of certain negative trends in these compilations, with its repetitiousness and technical crudity. (Hertzfeld couldn't possibly get more low-tech if the cartoon were flipped out by a person holding flash cards.) And yet it's fresh at its 12th viewing. In this parody of the children's film The Red Balloon, a dropsical stick-figure toddler is repeatedly assaulted by an evil balloon that hates him and wants him dead. One joke--but look at how Hertzfeld plays it! Hertzfeld shines on all fronts: his changes of angle, his inspired use of negative space and blackout, the exquisite timing of the gags and, lastly, the big finale, where a flotilla of evil balloons attacks a playground, a la Hitchcock's The Birds.

The other day at a boutique toy store in the Metreon, I saw a premutilated doll head for sale, for the goth too lazy to hurt his own toys. What's next, prelit cigarettes? As America's cinemas stand ready for the assault of Dr. Seuss' The Cat in the Hat, Big Abandoned Refrigerator Adventure counts as brilliant counterprogramming. A pair of live-action dollies get hurt real bad, while illustrating rhyming Seussian text that follows them from such games as "Under-the-Sink Bartending," "Play With Daddy's Pistol," "Burn the Wino" and "What's Inside the Abandoned Fridge?" As it runs the gamut from Captain Kangaroo to Last Exit to Brooklyn, Keith Allen, Courtney Branch and Seth Gordon's sadistic classic reinforces the lesson: Some things are too cute to live.
---
Spike and Mike's Sick & Twisted Festival of Animation 2003 (Unrated), a compilation of animated shorts, opens Wednesday (Nov. 26) at Camera One in San Jose.
---
---
Send a letter to the editor about this story to letters@metronews.com.
---
[ Silicon Valley | Metroactive Home | Archives ]