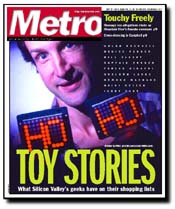 For the Week of
November 27-December 4
Cover: Toy Stories
What toys do the valley's most creative minds want from the high-tech gift bag this holiday season? Everything from a geostationary operational environmental satellite to a fully rechargeable rabbit-ear dildo.
News: Sexy Swamis
The Bay Area's only religious commune--the high-minded Ananda of Mountain View--has ended up with a massage-for-sex scandal.
Crosser Country: A suburban beauty salon finds its niche as cross-dresser's paradise.
Fashion Victim: Company policy requires a shave? Not so fast. It may come down to the finer points of freedom of expression.
Public Eye: School district budget woes.
Polis Report: Chinese unite against Japanese.



Distinctive Brand: A new executive chef at Brandon's Restaurant makes his mark on the Milpitas culinary scene.
Laissez La Bon: Correspondent Kevin Samson finds caffeine and comfort at San Jose's Town and Country Shopping Center.



Breaking Away: A web exclusive interview with Emily Watson, star of the new art movie, 'Breaking the Waves.'
Warped Values: In 'Star Trek: First Contact,' the Enterprise crew copes with human fallibility.
Behind the Green Walls: An Italian family tries to hold back the forces of history in 'Garden of the Finzi-Continis.'
Stop Action on the Move: A new anthology exposes Aardman Animations.



James Brown Makes It Once Again: A new, 2-CD retrospective album brings back peak James Brown jams from the early seventies.
Blue Suede Sombrero: El Vez walks the line between camp and commentary.
Eric Hayslett's Faithful Fantasy: New album 'Faith and Fantasy' shows off the singer's instrumental and production skills.
Audiofile: The latest CDs by Joni Mitchell, The Halibuts, Endre Tarczy and Paleface.
Beat Street: Rush is tight. So is security at San Jose show.



Making Waves: Chinese dissident and human rights activist Harry Wu continues his fight to expose China's injustice system.
Baraka Barks Back: Poet and activist Amiri Baraka infuriates and charms on two nights in the East Bay.
Magical Mexican: In 'Palinuro of Mexico,' Fernando del Paso folds James Joyce into magical realism.



Midnight Pantsing: What a canceled Levis ad revealed about America's darkest politico-sexual desires.