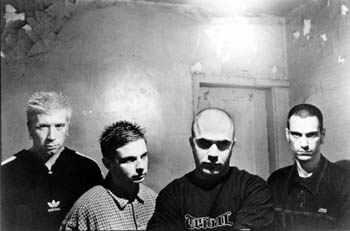 Staind appeared on R2 Cents.

Radio Voodoo

Pirate-radio jock Michael Magic's current medium of choice is TV

By Sarah Quelland

YEARS AGO, Radio Free San Jose, a pirate-radio station based in Willow Glen, got shut down by the feds. Then, DJ Michael "Magic" Kerman remembers, the FCC rolled up in a Ford truck loaded with high-tech gear--think Pump Up the Volume for a visual--and shut the operation down. "Eventually," he says, "they gave me a threatening letter, which I had framed and hangs on the wall of my office."

With no more RFSJ, Magic moved on to R2 Cents, which already had a working relationship with RFSJ. "It was a match made in heaven," he says. R2 Cents is a TV program that airs every Monday at 9:30pm on Channel 15 in the Cupertino and Los Altos area and every Wednesday at 10:30pm on Channel 15-A in the San Jose and Campbell areas. In addition to airing interviews and live concert footage of local bands like Krenshaw, the show gets great access to national acts. Its big-name guests have included Staind, Weezer, Limp Bizkit, Primus, Bad Religion, Pantera, Static-X and Matchbox Twenty. R2 Cents recently launched its new home on the web (www.r2cents.org) and uploaded new video footage of Papa Roach, Taproot, the Cramps and Insolence.

The transition from radio to TV was an easy one. "R2 Cents is in the same format as my radio show--live music interviews and a touch of madness. I enjoyed the spontaneity of radio and the instant reactions." But he continues, "TV is a different animal altogether. I like the raw sound of a band playing live, and visuals are an added bonus."

It's a labor of love for Magic and the R2 Cents crew. "Dealing with angry managers, stressed promoters and sleep-impaired roadies is a tough business," Magic admits. Tough, but rewarding. He's proud of R2 Cents' nonprofit status as part of the Bay Area Alternative Entertainment Association, an organization that is actively seeking sponsors to help finance an art-education facility. Grousing that government support of the arts is at an all-time low, Magic says, "We will provide a learning alternative to the disappearing courses in our Bay Area schools." His goal is to provide young people with free access to cameras and an editing room in San Jose.

In this economy though, startup money is harder to find than Axl Rose at concert time, so R2 Cents continues to broadcast its freedom-of-expression message to local audiences. He tells me the uncensored show garners both positive and negative responses from the community: "We get some interesting calls." Bands interested in being on the program can call the hot line at 408.580.9810 or email [email protected].

HEY DJ: Last week, we talked about ways for new bands to break into the clubs. There are other avenues open to more established bands to get their music heard. KSJO's Home Grown show (Sundays at 11:30pm) has been supportive of the Bay Area's hard-rock and metal bands. Send CDs to Sloppy Joe, c/o KSJO Radio 1420 Koll Circle, Suite A, San Jose 95112. LIVE 105's Sound Check (Sundays, 8-10pm) features new imports, indie recordings and local bands in the alt-rock vein. Send promo kits to Aaron Axelsen at LIVE 105, 875 Battery St., Second Floor, San Francisco 94111. KMBY's Acoustic Breakfast (Fridays, 8-9am) also features local and unsigned rock bands like Stunt Monkey, Moodfrye and Fighting Jacks. Send DAT, CD or tape and a bio to KMBY Acoustic Breakfast, Attn: Opie Taylor, 60 Garden Court, Suite 300, Monterey 93940 or email [email protected].

And don't forget college radio. Santa Clara University's KSCU-FM (103.3) has an indie-only format that includes punk, pop, ska, jazz, blues and reggae. Send materials to KSCU, 500 El Camino Real #3207, Santa Clara 95053; call 408.554.4413 or visit www.kscu.org. San Jose State University's KSJS (FM-90.5) offers a range of eclectic music, including techno, industrial, rock en español, reggae, big band, blues, noise, metal and punk. Send kits to KSJS-FM (90.5), San Jose State University, Hugh Gillis Hall, Room 132, San Jose 95192-0094; call 408.924.4548; or visit www.ksjs.org. Foothill College's KFJC-FM (89.7) concentrates on new material from cutting-edge genres. Strange fusions with unusual instruments appeal here. Send promo kits to KFJC, 12345 El Monte Rd., Los Altos Hills, 94022; call 650.949.7260; or visit www.kfjc.org.
---
Send a letter to the editor about this story to letters@metronews.com.
---
[ Silicon Valley | Metroactive Home | Archives ]