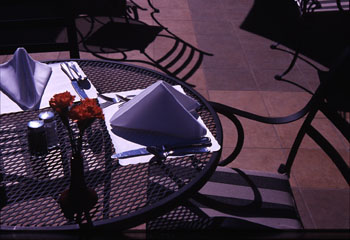 Troy Bayless

Warm All Over: Late autumn sunshine sheds a little light on the patio at Trellis.

Pasta With a Cause

Looking to reinvigorate your Italian taste buds? Menlo Park's Trellis may be the answer.

By Christina Waters

JUDGING BY what we tasted at Trellis last week, Cafe Pro Bono entrepreneur Kurt Ugur is enjoying his second lightning strike in downtown Menlo Park. Décorwise, Trellis is an attractively mixed metaphor--part industrial Milanese, part Neapolitan parlor--with handsome full bars upstairs and down. Lots of young men speaking Italian hover around and make sure everybody's being taken care of--very neighborhood trattoria. If I lived in Menlo Park, it certainly would be mine.

Mirrors line one wall of banquette seating, and the facing windows look out onto El Camino Real. But we only had eyes for the sexy Trellis menu, packed with flirtatious pastas--including Susan's downfall ($TK) from the Cafe Pro Bono hit parade--and inviting entrees.

After a long, deep exhale, let me simply announce that the restless search for the ultimate polenta has finally ended ... at Trellis. The grilled polenta with portobello mushroom appetizer is without question the finest polenta dish you'll ever taste. It is not possible for polenta to exceed this kitchen's standard. Anywhere.

Toni and I sipped glasses of house merlot (from Salmon Creek, $9) and Jessie's Grove Zinfandel ($7.50) while awaiting her salad of beets and endive ($7.95) and my life-altering polenta ($6.95). Appetizers took a little longer than expected. But when they arrived, we knew why.

The golden rectangle of polenta, unspeakably creamy inside, defiantly crisp outside, had been custom-made for our order. The delicate creation was very lightly napped with a memorable ragu and a few perfectly sautéed slices of portobello mushroom. I couldn't believe what I was tasting and needed Toni to confirm that I was in fact sampling the best polenta on the planet. Nodding vigorously, she managed to cop two more forkfuls before I firmly pulled the plate back where it belonged. Toni's lovely salad of huge magenta beets sliced over crisp endive and covered with citrus vinaigrette dotted with succulent orange sections was quite good--but not even in the same quadrant of the dining galaxy as that cosmic polenta.

Continuing the oral seduction, a deep, wide bowl arrived, piled high with garlicky, al dente fettuccine tossed with moist sea scallops, white wine and butter ($15.95). A wedge of fresh lemon was provided for me to squeeze all over this luscious dish. Lemon, sea scallops and garlic have got to be some of the best friends a noodle ever had. But Toni's main dish of veal scaloppini was arguably even better. Brandishing the aroma of authenticity, the lightly breaded, tender scallops of veal had been quickly sautéed and splashed with lemon and capers ($17.95). The dish reconvinced me that Italian cookery does ultimate justice to the delicacy of veal. Equally convincing were the side dishes of julienned vegetables--long thin green beans, carrots and zucchini--as well as a pool of gorgonzola-infused puréed potatoes worthy of the Baroque era.

"This is actually melting in my mouth," Toni admitted. The veal was that perfect. But not only texture is enhanced in these Trellis recipes. The accompanying details are every bit the equal of the main elements. And the kitchen isn't afraid of culinary bravura, i.e., garlic.

To finish this journey through some of the best ideas of Italian cuisine, we shared a warm apple cake topped with cinnamon-spiked ricotta rich enough to put whipped cream to shame ($5.50). Refusing to let us leave without a sample of another house-made specialty--Italy's iced fantasy, spumoni--our host brought a small dish to share of pistachio, cherry and vanilla ice cream, filled with flecks of nuts and fruit. It was a revelation. So this was what spumoni was all about, I thought, and chuckled to myself at all those stupid slices of tasteless pastel frozen air that had been foisted upon me as a kid. Here, at Trellis, was spumoni worthy of an opera. Or at least another dinner reservation in the very near future. And if it's polenta you crave, you only need to remember one word: Trellis. Trellis is Italian for "unforgettable polenta."
---
Trellis Restaurant
Address: 1077 El Camino Real, Menlo Park
Phone: 650.326.9028
Hours: Lunch 11am-2:30pm Mon-Fri; dinner 5-10pm Mon-Sat
Cuisine: Italian
---
---
Send a letter to the editor about this story to letters@metronews.com.
---
[ Silicon Valley | Metroactive Home | Archives ]