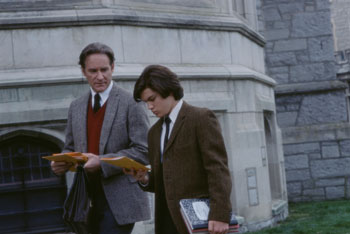 Study Buddies: Kevin Kline tutors Emile Hirsch in 'The Emperor's Club.'

Cramming

'The Emperor's Club' is this year's 'Goodbye, Mr. Chips'

By Richard von Busack

THE TITLE of the movie The Emperor's Club sounds like a frequent-gambler's membership at Caesar's Palace. But Michael Hoffman's film is the 800th version of Goodbye, Mr. Chips, with a few significant differences. Kevin Kline plays William Hundert, a professor of Western civilization at St. Benedictus, an exclusive Eastern boarding school. At the beginning, he's on his way via helicopter to a luxurious resort. As he arrives, he recalls a student he knew 30 years before: Sedgewick Bell (Emile Hirsch), an unloved senator's son, bright, charismatic and disruptive. Hundert's intuition tells him that Bell could try harder, so he grooms the unruly kid for the school's coveted "Emperor's Club," where three of the best history students will wear togas and contend for the title of "Mr. Julius Caesar" after winning a game of Roman 20 questions.

I'm glad to see the teaching of Greco-Roman history celebrated. It wrenches the heart to see scholars put down by arrogant senators and senators' sons, as happens in some scenes in the movie--it's been decades since there was erudition in Washington, D.C. But whenever I'm feeling ready to swoon over the leaded glass and monogrammed blazers of a boys-school movie (and, God knows, there are a lot of such movies), it's time to reread George Orwell's essay "Such, Such Were the Joys." Turn the pages and learn of Orwell's days in an English boarding school, feeling like "a goldfish in a tank of pike." Note the way the students are led to shout out dates ("a positive orgy of dates"), just as Hundert makes his students do, in the bad old English boarding-school tradition. It's as if there weren't anything to learning Roman history but rote memorization. How does this cramming prepare for a life of anything but being a Jeopardy contestant?

Note also the way Hundert insists on the importance of "character." This seems to mean what it meant when Orwell learned the term at his school: "the power to impose your will on others." (Hundert's lionizing of Julius and Augustus Caesar says a lot--two of the earliest power politicians, the venerated heroes of fascists.)

The Emperor's Club sits squarely in the usual banal tradition of such movies, complete with the arrival of a skin magazine in the dorms, the temporary escape to the girl's school across the lake and the breaking of a car window with a baseball. The antique throat-lumping sequence of Hundert's shy platonic romance with a married teacher (Embeth Davidtz) is even more hackneyed. But the film comes to a surprise twist at the resort, where Hundert arrives for the weekend. Here, he meets his host, the adult Sedgewick, who shows his true colors, and they're not the hue Hundert imagines. The punch line offers an acid contrast to the movie's snobbery and sweetness. But the finale--so glanced over--consists of Hundert, though he prides himself on his unbending "character," helping to engineer a handsome bribe. This payoff makes his school richer and threatens to make his country worse. This sticklike pedant turns out to be as unlike Socrates as all the rest of us, and neither Kline nor director Michael Chapman seems to notice.
---
The Emperor's Club (PG-13; 105 min.), directed by Michael Hoffman, written by Neil Tolkin, based on the story by Ethan Canin, photographed by Lajos Koltai and starring Kevin Kline and Emile Hirsch, plays at selected theaters valleywide.
---
---
Send a letter to the editor about this story to letters@metronews.com.
---
[ Silicon Valley | Metroactive Home | Archives ]