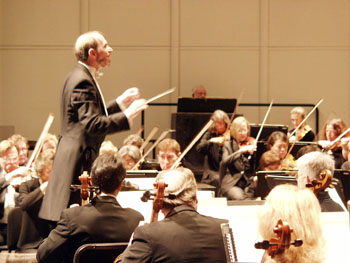 John Eric Paulson

New World

Guest conductor David Loebel led San Jose's new symphony through a vivid reading of Dvorák's 'From the New World'

By Scott MacClelland

THE PHOENIX rose from its ashes virtually intact. Restored with the newly cumbersome name Symphony San Jose Silicon Valley, the members of the former San Jose Symphony fed their starving fans a generous sampler of two centuries at the San Jose Center for the Performing Arts last Saturday. Emotions ran high for this debut, sparking three standing ovations by the capacity audience. This, of course, was the first of four concerts scheduled though June 2003 under the auspices of Ballet San Jose Silicon Valley, featuring four guest conductors, presumably unannounced candidates for a permanent music directorship. David Loebel, currently chef of the Memphis Symphony, displayed gamesmanship in the opening Promenade Overture, by John Corigliano, Stravinsky's Petrushka and Dvorák's Symphony no. 9 in E minor (From the New World).

For Ballet San Jose Silicon Valley to launch a symphony season was a no-brainer. The orchestra was already under contract, and the need--while evidently not obvious to everyone in this fair city--was plain enough to many. All it took was money. Even while the old symphony was struggling to regroup, ballet administrators and board members began discussing how they could use their vision and skill to get a valuable artistic Phoenix to fly clear from the ashes of a famously dysfunctional institution. "It turned out not to be all that difficult," Andrew Bales, ballet executive director, told me. "We budgeted $300,000 for this first season, got some seed money, and, after only a few weeks, we've already got $140,000 in pocket. All that before tonight's debut."

To underscore the never-ending need for funds, the downbeat was delayed 15 minutes to accommodate long lines of ticket buyers at the box office. "We intend to take their money," declared a reassuring offstage announcer as the published start time came and went.

Like so many of his occasional works, Corigliano's Promenade, from 1981, playfully keys off other musical icons, in this case Haydn's Farewell Symphony, the Young Person's Guide by Benjamin Britten and Bartok's Concerto for Orchestra. The Haydn work ends with the players leaving the stage, in ones and twos, until the last two violinists pick up their music and extinguish their candles.

Corigliano does the reverse (after a volley on the drums), with brass playing the last few measures of the Haydn in reverse. Ones, twos and sections then enter the stage, while playing, until everyone is assembled, with a tardy tuba player bringing up the rear.

Britten is implicit, of course, but the more protean Bartok seems to be closer to Corigliano's heart in a piece that is full of clever and original touches. What could have been a straightforward 12-minute march turns out to be a work of changing moods and character, an artistic play that transcends its novelty.

Once on the podium, Loebel was both team leader and team player, a slender, animated man with a sharp eye and quick reflexes. But Dvorák's New World Symphony proved his mettle as the orchestra followed his lead to an urgent, vivid and propulsive reading. Articulate on top and full-bodied below, the orchestra engaged the piece splendidly, reasserting its authority and unencumbered by its past difficulties. The ghost of George Cleve, San Jose Symphony's longtime conductor, was in the house.

The Stravinsky conjured up a different ghost. This, technically the most difficult of the composer's three great ballets from the 1910s, betrayed the players' deteriorated disciplines. Ensemble between sections slipped out of synch more than once; and at times, overall focus blurred. The piece itself betrayed Loebel, who allowed balances to go awry, with subordinate material rolling loudly over primary melodies. The new concert shell also betrayed the effort, stealing warmth from the low end and hall-penetrating presence from the strings. Fortunately, these are fixable problems. Most important was the audience response to the entire event, a clear expression of pride that rose and intensified on both sides of the proscenium.
---
Send a letter to the editor about this story to letters@metronews.com.
---
[ Silicon Valley | Metroactive Home | Archives ]