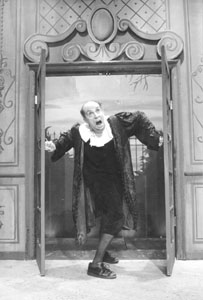 Hoarder Crossing: Harpagon (Jim Johnson) thrives on greed in 'The Miser.'





Le Scrooge

City Lights' 'Miser' gives French side of 'Christmas Carol'

By Heather Zimmerman

TO RING IN THE SEASON of giving, City Lights Theater Company presents a lighthearted tale about a miser who is slightly less famous than Ebenezer Scrooge but certainly no less stingy. However, whereas Charles Dickens' sentimental holiday story gave its antihero a chance at reform, it's all played strictly for laughs in Molière's The Miser, in which the titular penny pincher, Harpagon, pays a high price for his lifelong greed. But no Ghost of Christmas Past or Present can save him--and as this buoyant production seems to say, thank heavens for that.

City Lights aims for pure silliness with this typically twisted French farce in which the wealthy skinflint Harpagon (Jim Johnson), as tightfisted with his affections as he is with his cash and yet nearly as vain as he is cheap, plans to marry a much younger woman who also happens to be the love of his son, Cleante (Joe Barra). Meanwhile Harpagon's daughter, Elise (Mary McGloin), has struck up a secret romance with her father's penniless steward, Valere (Douglas Young)--a disadvantageous love match of which Papa seems certain to disapprove.

Company regular Johnson has something of a specialty in high-strung, short-tempered characters, and here he really hits the mark, reaching ever-higher peaks of agitation every time Harpagon perceives the slightest threat to his fortune. Young also offers solid laughs as the rakish Valere, sucking up to the boss with panache as he romances the boss' daughter. Director Tom Gough revels in the ridiculousness of Harpagon, playing up the cartoonishness of the greedy old geezer and the trouble he causes. But at times the comedy suffers from self-conscious direction. Certain comic bits, such as a slapstick chase that zigzags through Harpagon's mansion, seem too deliberate, as if the audience is being milked for every possible laugh.

Despite any memories to the contrary from high school French class, The Miser is funny, if extremely silly, stuff, and Gough has chosen well in using a fairly recent translation by David Chambers. The translation, very modern in language, does an excellent job of culling Molière's broad 17th-century humor for jokes a 21st-century audience will appreciate, yet without changing the heart--or lack thereof--of this classic play by a master satirist. Though in his way, Molière offered as much social criticism as Dickens did, he took it such an extreme that we can't help but laugh at it--and at ourselves. Such laughter seems a good antidote for a season that's prone to overdosing on sugarplums.
---
The Miser plays at Thursday-Saturday at 8pm and Sunday at 7pm through Dec. 22 at City Lights Theater Company, 529 S. Second St., San Jose. Tickets are $15-$22. (408.295.4200)
---
[ San Jose | Metroactive Central | Archives ]