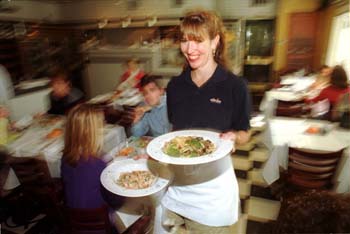 Photograph by George Sakkestad

Three's a Charm: Server Sandi Sousa keeps the fancy fare flowing at Cafe Trio.

Lunchtime Los Gatos

Cafe Trio, a tiny pioneer of California cuisine on the east side of Los Gatos, continues to hold down its delicious turf

By Christina Waters

SOUP SOUNDED GREAT on a rainy afternoon. Something filled with seasonal comfort and interesting seasonings--the sort of soup that regularly happens at Cafe Trio. A mecca for the devoted Los Gatos lunch crowd, Cafe Trio, for the past seven years, has stoked our sensory fantasies with intriguing flavor and texture contrasts. Pacific Rim blends with the Mediterranean in this all-star California cuisine menu finessed by husband and wife owners Jack and Rosemary Edwards. A "duo" for the past several years--when the third of the trio, Lindsey Quehl, left to develop her own venue--Cafe Trio remains as happening as it was on day one. In summer, outdoor seating takes some of the pressure off the very small, black-and-white tiled interior. But in rainy weather it resembles a well-packed trattoria, tables squeezed together into what seems like one huge sensu-round conversation bouncing off all that tile.

Cafe Trio's menu tempts with seasonal starters like corn cake and portobello mushrooms, or baby spinach salad with pancetta and herbed goat cheese. The magnificent fresh salads and sandwiches are augmented with substantial pastas, like the special I sampled of penne with smoked ham, fresh tomatoes, garlic and oyster mushrooms ($15). Phyllis saw an order of grilled artichoke ($9.25) stuffed with apples, pancetta, mushrooms and melted Asiago and made her move. Although my official appetizer was a splendid orchestration of grilled prawns with black bean/mango salsa ($10.25), I easily succumbed to a cup of the day's special soup ($5). Phyllis nodded knowingly--who could resist red lentil soup?

The soup tasted like autumn. A blazing, deep orange hue, its thick puree of rich, earthy lentils was enhanced by tomatoes, possibly fortified by potato and laced with a light grating of cheese. Smooth and satisfying, it was given added complexity by the presence of roasted cumin and something hot like cayenne that added a spicy finish to each sip. We loved it with bites of fresh French bread slathered with herb butter.

My skewer of freshly grilled prawns lay across a bed of arugula-intensive greens, wilting deliciously in the warmth of the shellfish. Diced ripe mango, fresh cilantro and pungent black beans added their own chemistry. A classic of California cuisine, the dish holds up well. But Phyllis' grilled artichoke proved far more innovative--and hearty. A giant artichoke arrived, again on a lovely pile of greens bathed in vinaigrette and cracked pepper. Impeccably cooked--not mushy, not hard--its interior had somehow been neatly packed with a divine mixture of green apples, pancetta, mushrooms, soft, sweet onions and garlic, all bound together with luscious cheese. The enormous thistle was perched vertically on its blanket of lettuces.

Such beautiful dishes--but then every single dish that swirled around us in the tiny dining room was equally well designed. Many oohs and aahs rose from the crowd that afternoon last week.

One of them was mine, when presented with one of those plates of freshly created pasta that gives pasta a good name. Al dente penne--Pavarotti's favorite pasta shape--steamed juicy and glistening with sweet Bermuda onions, crimson tomatoes and chewy oyster mushrooms. Tiny leaves of fresh spinach added deep emerald color, while generous morsels of ham exploded with intense flavor. Ham and tomatoes are natural partners of pasta and garlic. Cafe Trio knows this. Only Phyllis' huge smoked chicken salad ($13) underwhelmed. Served on a dark blue "Millennium 2000" plate, the salad was a mass of salt and beige. Smoked chicken, crisp rice noodles (way too many), shredded Napa cabbage leaves (way too few), a few almonds and some tangy chunks of fresh orange all sort of sat there unrelieved by any color or texture appeal.

Dessert is always a treat here, and Cafe Trio's delectable, ultra-creamy cheesecake with a smooth chocolate crust hit the spot ($5.50). Topped with real whipped cream, ripe raspberries and mint leaves, it lay on a lattice of chocolate and caramel sauces. In the words of D.H. Lawrence, "Oh yes!"
---
Cafe Trio
Address: 15466 Los Gatos Blvd., Los Gatos
Phone: 408.356.8129
Hours: Lunch Mon-Fri 11:30-2; dinner Tue-Thu 5-9; till 10pm Fri & Sat. Closed Sunday.
Cuisine: Classic California cuisine
---
[ San Jose | Metroactive Central | Archives ]