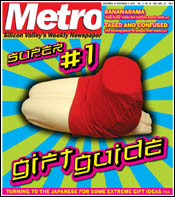 For the Week of
November 30-December 6, 2005
Cover Story: Super #1 Gift Guide:
Turning to the Japanese for some extreme gift ideas.
Books
DVDs
Holiday Happenings
Holiday Movies
Music
News: Blackboard Rumble:
How the question of whether one San Jose student was eligible for special ed turned into a battle royal.
The Fly: A local taser death intensifies the debate over taser policies.



Silicon Alleys: Best in San Jose.
Techsploits: Man's Place.
Rev: Better World Club's shtick is my shtick: You might need to drive, but you're not happy about it, so let's try to drive as lightly as possible.



SoFA Grows a Gallery: Anno Domini moves into the old Camera One building on South First Street in the downtown arts district.



Method Madness: 'Ellie Parker' is Scott Coffey's shot-on-DV tale of the agonies and ecstasies of the no-name actress who went on to become Naomi Watts.
The Mister of Spices: A man eats the bitter dolmas of exile in 'A Touch of Spice,' a Greek story that combines food-porn and pithy sayings.



Mortality Combat: Nine Inch Nails' resident Rasputin ponders his own arena-size profile.
Child's Play: CD box set celebrates neopsych progeny.



Book Box: 'First and Fifteenth: Pop Art Short Stories,' 'Hugs: Thoughtlead' and 'The River of Doubt: Theodore Roosevelt's Darkest Journey.'



Sino the Times: Sino's intriguing and even daring fusion proves it has more going for it than just good looks.
Live Feed: How Do You Solve A Problem Like Persimmons?
5 Things: Habits Of Highly Irritating Waiters.
Club Life: Smoke Tiki Lounge and Barbecue in San Jose.



Please don't forget to write! Metro welcomes letters. Like any great work of art, they should be originals — not copies of letters sent elsewhere. Include address and daytime phone (for verification purposes only). Letters may be edited for length and clarity or to correct factual inaccuracies known to us. Postal: Metro Letters, 550 S. First. St., San Jose, CA 95111. Fax: 408/298-0602. Email: letters@metronews.com. Emailers, please include name, city of residence and phone number. Letters printed will list email address unless otherwise specified. Letters to the editor are not currently published in the online version of this paper.