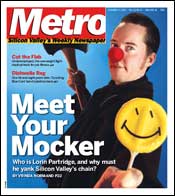 For the Week of
December 1-7, 2004
Cover Story: Meet Your Mocker:
Who is Lonn Partridge, and why must he yank Silicon Valley's chain?
News: Muscle vs. Fitness
Weight can be a sign of health problems, right? Wrong. But it still leads to prejudicial thinking.
The Fly: This week's political bites.



Biter: The Bay Area Glass Institute turns molten glass into a work of art.
Techsploits: Annalee Newitz loves porn.
Rev: New Automotive Dictionary: I got to suckle at the thesaurus, discovering new words that would make me sound smart.



Locked In Gilded Cages: 'Women on the Verge' show depicts the cultural confinement of the 19th century.



Animals: Get as far away as you can from 'Closer.'
Soldiering On: Edward Dmytryk's 'The Young Lions' puts Marlon Brando in a fetching uniform.
Gone to Seed: All right, Chucky movies were never great, but do they have to drag Jennifer Tilly down with them?



Once More, With Feeling: What happens to a one-hit wonder? Dishwalla doesn't want to find out.
Motion Picture Perfect: Why pop songs become popular through movies.



Make a Pass: Salang Pass Restaurant offers an elegant entry into Afghan cuisine.
Silicon Veggie: A Christmas Tale.
5 Places to Love: Brewpubs.



Scare Tactics: Dark tales unfold at San Jose Stage Company's 'The Woman in Black.'



Please don't forget to write! Metro welcomes letters. Like any great work of art, they should be originals — not copies of letters sent elsewhere. Include address and daytime phone (for verification purposes only). Letters may be edited for length and clarity or to correct factual inaccuracies known to us. Postal: Metro Letters, 550 S. First. St., San Jose, CA 95111. Fax: 408/298-0602. . Emailers, please include name, city of residence and phone number. Letters printed will list email address unless otherwise specified. Letters to the editor are not currently published in the online version of this paper.