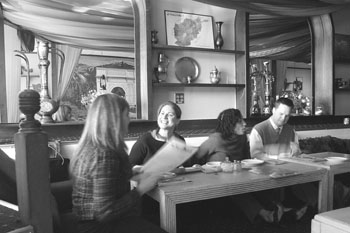 Photograph by Paolo Vesia

Food and Politics: Filled with memorabilia from Afghanistan, Salang Pass Restaurant creates an aura of warmth.

Make a Pass

Salang Pass Restaurant offers an elegant entry into Afghan cuisine

By Stett Holbrook

AFTER SEPT. 11, the national media discovered that Fremont had the nation's largest Afghan population. In the weeks before and after the U.S. invasion of the country, journalists descended on the city to talk to Afghan expatriates and get their view of events in the beleaguered country. I wonder how many reporters stopped for a bite to eat at one of the city's Afghan restaurants. These restaurants offer a great window into the country's people and culture.

Salang Pass Restaurant ranks as one of the city's best Afghan restaurants. The owners, Wahid and Zarmina Andesha, fled their native country before the Soviet invasion of 1979 and were never able to return. He was an engineer in Afghanistan, and his wife a lawyer. Now he's the host of the restaurant, and she's the chef. They've settled into their new roles very well. Wahid remains intensely proud of his native country and has filled his restaurant with memorabilia from Afghanistan; he loves to talk about his former home.

Afghanistan's geography has had a profound effect on its history, politics and cuisine. The country, at the crossroads between Iran, India, Pakistan and Central Asia, has absorbed many influences. Afghan food is at once exotic and familiar. There are shades of Indian food in the flat breads and in some of the complex, currylike sauces and seasonings. The wonderful ravioli and dumpling dishes have similarities with Russian pelmeni. Kebabs, grilled meats that originated with the nomadic tribes of the Middle East and Central Asia, are familiar but better here than many I've tried elsewhere. But there's a delicacy and richness to Afghan food that puts it in a class of its own.

Borani badenjan ($4.99) makes a great starter. Delicate, slow-cooked eggplant is finely seasoned and served in a rich, tomato sauce and topped with a little yogurt. It tastes vaguely Mediterranean, but the addition of coriander and cardamom take it elsewhere. The similarly named bolani ($6.50) is another must-order. Light naan is stuffed with a flaky mixture of potatoes, leeks, cilantro, chile peppers, cumin, coriander and other spices and then grilled to create a kind of Afghan calzone. Don't stop there. Aushak ($4.50) are delicate, crescent-shaped raviolis stuffed with leeks (a favorite vegetable in Afghanistan) and topped with a superb tomato and ground-beef sauce. A dollop of yogurt ties it all together.

Quabili pallow ($11.50) is Afghanistan's national dish, and it's another winner. Here again, you can see the similarities with other cuisines. It's like Indian biryani or Spanish paella, only different. Long-grain brown basmati rice is baked with plump raisins, shredded carrots, cardamom and spoon-tender lamb shank. Borani kadoo ($8.50) is a uniquely Afghan dish. Pumpkin is sautéed and suffused with saffron, garlic, cardamom and yogurt. The cumin-flecked basmati rice and dal soup served with it are good, too. For heartier fare, the kebab combination ($11.95) combines a piquant, marinated sirloin kebab with a highly spiced koobideh, a ground-beef kebab peppered with cumin, chile powder and leeks. The sirloin kebab would have been better if it had spent less time on the grill, but the kebabs were very good. All meat is halal, which means it's butchered in accordance with Islamic law.

For dinner, try to get a seat in the raised section of the dining room. The flowing, multicolored fabric overhead, overlapping rugs and plush pillows make the room feel like dining in a luxurious tent. In observance of Islamic tradition, Salang Pass doesn't serve alcohol, but you're welcome to bring your own wine or beer.

On our two visits, Wahid chatted up regulars and charmed newcomers. Talking to Wahid or other servers often leads to an Afghan history lesson. A question about the raisins in a dish led to a reverent mention of Kandahar, a city in western Afghanistan that once coursed with flowing canals that irrigated vineyards and fruit orchards that supplied the country and neighboring regions with fresh produce.

Portions at Salang Pass are large and can make desserts (all $3.50) a challenge, but don't miss them. The house-made Afghan ice cream, flavored with rose water and pistachios, is rich and chewy and a great combination. Cheesecake tastes like a firm, mild feta and is steeped in a cardamom-infused syrup. Best of all is firni, a silken, tapiocalike dish that's sprinkled with slivered almonds and perfumed with rose water.

Salang Pass is worth the drive from Silicon Valley for its fine Afghanistan cuisine and the aura of warmth created by its owners.
---
Salang Pass Restaurant
Address: 37462 Fremont Blvd., Fremont
Phone: 510.795.9200
Hours: 11:30am-10pm Mon-Thu, 11:30am-10:30pm Fri-Sun
Price range: $8-$12
---
---
Send a letter to the editor about this story to letters@metronews.com.
---
[ Silicon Valley | Metroactive Home | Archives ]