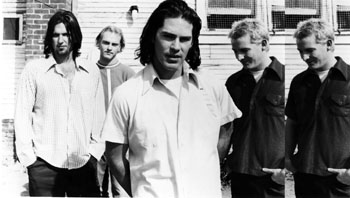 Photograph by Ethan Hill

Never Surrender: Dishwalla broke big in 1996 with 'Counting Blue Cars.'

Once More, With Feeling

What happens to a one-hit wonder? Dishwalla doesn't want to find out.

By Jim Harrington

IF THERE were any justice in this world, Dishwalla wouldn't have been a one-hit wonder. The band would have been a two-hit wonder. That's an entirely different group, one that would warrant a little more prestige at the Rock & Roll Retirement Home in Cleveland. It would have elevated Dishwalla from being lumped in with such acts as Taco, Timbuk 3, Crash Test Dummies and Lou Bega to the stratosphere of the .002 hitters Fabulous Thunderbirds ("Tuff Enuff" and "Wrap It Up") and Dead or Alive ("You Spin Me 'Round [Like a Record]" and "Brand New Lover").

Dishwalla's "Counting Blue Cars," with its grabby line "Tell me all your thoughts on God/ 'Cause I really want to meet her," was one of the biggest songs of 1996 and propelled the album Pet Your Friends into platinum status. Beyond "Blue Cars" and "Charlie Brown's Parents," there's absolutely nothing to get excited about on Pet Your Friends. That's fine. In fact, by mid-'90s pop-rock standards, two good songs would make Pet a rather deep album.

Unfortunately, the public's infatuation with Dishwalla lasted exactly one song. The Santa Barbara band would make over its sound on 1998's And You Think You Know What Life's About, coloring its successful grunge-lite with dizzy drum loops and moody synthesizers. The public didn't buy it—literally. The album would debut at No. 164 on the Billboard 200 and sell a meager 77,000 copies. Talk about a fall from grace—it would take Dishwalla some four years to pick itself up off the ground and try it again with 2002's Opaline, which found the band switching from the A&M label to the small Los Angeles-based Immergent Records. Despite a return to more Pet-friendly material, Opaline was dismissed by consumers and critics.

Every act that eventually settles into the domain of one-hit wonderdom once had lofty aspirations of maintaining a lengthy career (except for Carl Douglas, who probably knew "Kung Fu Fighting" was both the beginning and the end of his career). Dishwalla was supposed to be the Next Big Thing. These guys connected the dots between grunge and radio-friendly pop. They had the look, the songwriting chops and the sound. Instead, they find themselves playing the Fat Cat in Modesto and Seacliff State Beach in Aptos. That's no knock on any of those venues but those comparatively intimate places are surely not what Dishwalla was planning on playing some 10 years into its career.

The Dishwalla story is certainly not unique. The landscape of late-'90s pop is littered with casualties of an increasingly fickle record-buying public. The post-grunge period was a particularly difficult time, as listeners searched for something, anything, that mimicked the depth of Nirvana but without quite as much angst. Fans treated albums like video rentals, often buying a record for one track and then bringing it back to the used-CD store a few weeks later. That accounts for the rapid rise, and equally quick dismissal, of such so-so bands as Eve 6, Third Eye Blind, Harvey Danger, Blind Melon, Candlebox and 4 Non Blondes. And it accounts for the career of Dishwalla.

Of course, it would have helped if any of these bands had offered up anything more than one good song. Beyond a catchy hit, these acts delivered little beyond watered-down rehashes of whatever was popular at the time. It's no wonder that when their respective genres began to fade these bands were the first to go. When they later tried to change course, as Dishwalla did with And You Think You Know What Life's About, they were too closely associated with the now passé style for fans to accept the new direction.

But, God bless it, Dishwalla hasn't given up. The band is clearly in the rebuilding stage, back in the studio working on yet another new album. Dishwalla isn't starting from scratch on its comeback quest. It's got name recognition, pockets of enthusiastic fans in such places as France and Japan, and it's got "Counting Blue Cars." But, more than anything else, it's got the dream—to someday be a two-hit wonder.
---
Dishwalla appears at the Mix 106.5 CD-Launch party at Zoë Nightclub on Saturday (Dec. 4). Tickets are only available by buying a copy of 'Today's Best Mix Vol. 6' from Pure Beauty. (www.kezr.com)
---
---
Send a letter to the editor about this story to letters@metronews.com.
---
[ Silicon Valley | Metroactive Home | Archives ]