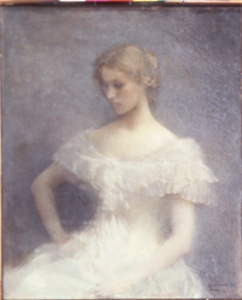 Staying Put: Thomas Wilmer Dewing's 'Young Girl Seated' from 1896 depicts the 'delicate female constitution.'

Locked In Gilded Cages

'Women on the Verge' show depicts the cultural confinement of the 19th century

By Sura Wood

THE MOST striking image in "Women on the Verge: The Culture of Neurasthenia in 19th-Century America," at the Cantor Center for Visual Arts at Stanford through Feb. 6, is a cage with two splendid, exotic stuffed birds. These vibrantly colored creatures, imprisoned in a gilded cage, serve as a poignant metaphor for the experience of many women—and some men—of the period.

Though the late 1800s offered women new opportunities to participate outside the domestic sphere, it was also an era when it was widely believed that women's reproductive systems made "brain work more taxing."

The prevailing theory of the day was that the pressures of modern urban life on the "delicate female constitution" led to a nervous disorder called neurasthenia. Those afflicted with this disease—most were women—suffered from debilitating exhaustion and a host of other symptoms. Medical experts warned women to stay away from Euclid and intellectual pursuits, which were viewed as key culprits in triggering the condition.

Neither a full-blown art exhibition nor a complete socio-medical history, "Women on the Verge" uses memorabilia, excerpts from medical journals, personal diaries, books and advertisements as well as images of women in paintings, drawings and cartoons. Although it is part of the Cantor's mandate to make connections between disparate academic subjects of interest to the Stanford University community, the approach doesn't make for a cohesive or entirely satisfying presentation.

However, the exhibit does provoke thought about an intriguing historical phenomenon that has a discomfiting resonance with contemporary attitudes. "We were struck by the parallels between perceptions of women defined as neurasthenic 100 years ago and the fact that the structure of modern medical research still promotes the idea that women are more susceptible to mental illness," says co-curator Dr. Claire Perry.

Among the few humorous notes in an otherwise disturbing show is a cheeky cartoon by Charles Dana Gibson from Life Magazine. It depicts a young woman leaping across a mountain chasm with a caption that reads, "One of the Disadvantages of Being in Love with an Athletic Girl."

John White Alexander, himself a neurasthenic, managed to have a successful career as a figurative artist. His painting Portrait of Miss Dorothy Roosevelt has a luminous quality, though his subject's form and face are partially ensconced in shadow, and her gaze is downcast—a motif shared by several of the portraits of neurasthenic women.

The overall impression is of women submerged rather than emerging. Through a 21st-century lens, many appear depressed, withdrawn, impassive and numb. It's a portrait of a gender rendered limp. While doctors prescribed outdoor activity for neurasthenic men, the recommended treatment for women was bed rest and isolation—even reading and writing was discouraged. According to The Yellow Wallpaper, an autobiographical account by Charlotte Perkins Gilman included in the show, the cure was worse than the disease. Photos of women before and after treatment do little to inspire confidence in its salutary effects. Perkins writes that her confinement, a benign form of house arrest, contributed to her descent into insanity.

Several works imply that a way for women to avoid female trouble is not to stray too far from home: a black-and-white Currier and Ives print of a woman and two children aptly titled Maternal Happiness, and Lily Martin Spencer's Choose Between, a small painting of a radiant woman holding her beaming children in front of the hearth, tout the joys of domesticity.

Women are still torn between taking their place in the wider world and the desire for family, and they struggle with society's tacit expectations and, at times, conflicting demands of them. "In my view, it's daunting to see how much remains unchanged since the 19th century in terms of ideas about women's nature and role in society," says Perry. "American women are definitely on the verge of something, but we've got a long way to go, baby."
---
Send a letter to the editor about this story to letters@metronews.com.
---
[ Silicon Valley | Metroactive Home | Archives ]