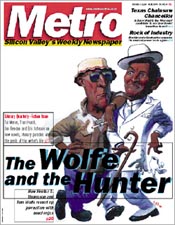 For the Week of
December 3-9, 1998

Literary Quarterly: The Duke and the Dandy
Hunter S. Thompson and Tom Wolfe helped create the New Journalism, but their new novels--The Rum Diary and A Man in Full--point in opposite directions.

Birds of America: Lorrie Moore's short fiction collection depresses and thrills millions.

Gain: Richard Powers charts the power of business in all corners of life and death.

The Wind-Up Bird Chronicle: In Haruki Murakami's world, people must touch bottom before they can find salvation.

Timothy McSweeney's Quarterly Concern: In which David Eggers takes the pretensions of the little literary magazine are taken for a ride.




News: The Penal Colonnade
Residents of downtown San Jose's once swanky, redevelopment-subsidized Colonnade Apartments say the place has taken a fast and serious fall.

Chainsaw Chancellor: Environmentalists are miffed at Governor-elect Gray Davis' choice of Barry Munitz to head his transitional team.

Public Eye: Redevelopment chief wants to stay in San Jose.

Dog Heaven: Willow Glen couple sets up day care for canines.






Structural Noise: Germany's industrial pioneers Einstürzende Neubauten are back with pounded mechanical percussion and moody messages.
Parker Rising: Nicky Baxter reviews Awakening, the new album by percussionist Leon Parker.
Colossal Wolves: Los Lobos roars into Fuel for benefit concert.



Canadian Rockers: Hard Core Logo follows a band's reunion and demise mockumentary style.
La Femme Anne: Anne Parillaud takes up her assassin weapons again in Raul Ruiz's Shattered Image.



Dessert Oasis: Chris Yeo's new Straits Cafe in Palo Alto promises to end meals on a sweet note.
Bargain Bites: Chile-laced kimchi and fiery Korean dishes warm up winter's chill at Myung Dong.



Grinch and Bear It: And to All a Good Night milks laughs and morals.



Square Is Beautiful: Cartoonist Alex Ross revives the moral authority of the Man of Steel.



Please don't forget to write! Metro welcomes letters. Like any great work of art, they should be originals -- not copies of letters sent elsewhere. Include address and daytime phone (for verification purposes only). Letters may be edited for length and clarity or to correct factual inaccuracies known to us. Postal: Metro Letters, 550 S. First. St., San Jose, CA 95111. Fax: 408/298-0602. . Emailers, please include name, city of residence and phone number. Letters printed will list email address unless otherwise specified. Letters to the editor are not currently published in the online version of this paper.