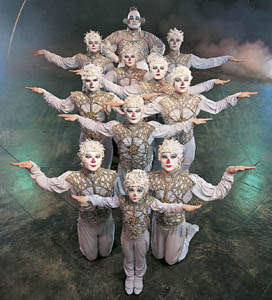 Avoid Eye Contact: The Cirque clowns want you onstage.

Cirque-ular Logic

'Alegria' shows off Cirque du Soleil's skill at old-fashioned circus acts with a twist

By Traci Vogel

ALEGRIA, Cirque du Soleil's current offering in San Francisco, has been touring in one form or another, worldwide, since 1994. After nearly a decade, you'd think that the spectacle's mysteries would have waned, but no, still we wonder: to what end, the roly-poly figure with the Princess Leia hair? Why the mean, mealy-mouthed ladybug ringmaster? And how do those people who play the baroque birds walk around with so much material wadded up in their tights?

Ah, yes, the physical humor of Cirque du Soleil. If you've never seen the Montreal-based troupe of trans-humanoid talent, you'd do well to start with Alegria. Unlike Varekai, which employed a loosey-goosey storyline and lots of clicking, chirping New Age music, Alegria celebrates the old-fashioned circus arts while revealing no urgency to make sense. Which is a relief. Because who wants to try to fit clowns into some narrative of spiritual evolution? Clowns are clowns, and one of the funniest parts of Alegria comes when one of these iconical bozos with the triangular eyes sticks a beach ball down his pants. Clowns, funny.

Alegria also toots a great klezmeresque rock-opera soundtrack by René Dupéré, the bestselling soundtrack of all of Cirque de Soleil's various programs. The White Lady sings most of it, as she meanders across the stage and occasionally through the audience like an ambulatory wedding cake. Be forewarned, though: this is a wedding cake with claws. During the second half of Alegria, my poor date, who had moments before been bad-mouthing audience participation, was plucked from the seat beside me and taken onstage to dance. He was then strong-armed by the Strong Man, who carried, him, purselike, back to the howling audience. Lesson: When the performers come through the audience, don't make eye contact! No eye contact! (Unless, of course, you want your 15 seconds of flame-faced fame there and then.)

Here, too, strut the astonishing gymnastic displays, the gasp-inducing aerial high-bar group and the synchronized trapeze that Cirque is known for--and for which they recruit talent worldwide. Alegria features a jaw-dropping contortionist, spot-on Russian bar performers, a bungee-cord dance act that could induce whiplash, and--my favorite--a fire dancer dressed like a Hawaiian Tarzan who twirls flaming batons to the beat of a hypnotic tribal drum. What a hottie.

Alegria reminds us that, despite the often dispiriting nature of bad Hollywood special effects, there are still not-so-stupid human tricks that defy the everyday. The biggest pleasure of Cirque du Soleil comes in watching its veil of magic waver and the chests of the real-people performers heave. Just remember: No eye contact!
---
Alegria, a Cirque du Soleil show, plays through Dec. 21 in the parking lot at Pacific Bell Park in San Francisco. Call 800.678.5440 for tickets.
---
---
Send a letter to the editor about this story to letters@metronews.com.
---
[ Silicon Valley | Metroactive Home | Archives ]