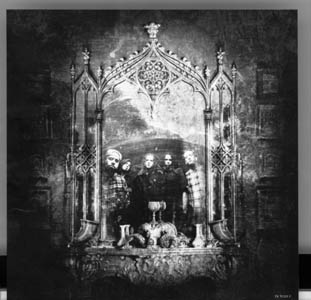 Korn goes behind the looking glass.

Family Values

Korn's 'Take a Look in the Mirror' offers an assaulting view on users and takers

By Sarah Quelland

DUE TO AN INTERNET LEAK, Korn decided to break with convention and rush the release of its sixth studio album, the self-produced Take a Look in the Mirror (Epic/Immortal), to the Friday before its scheduled Tuesday unveiling. Released Nov. 21, the new album picks up where Untouchables left off, with a blunt and bludgeoning sound, and this record has an undiluted sense of spontaneity that reflects back on Korn's aggressively exposed beginnings.

Take a Look in the Mirror opens with Korn vocalist Jonathan Davis declaring, "I'm feeling mean today" on "Right Now," which helps set the angry tone for the whole album. It sounds like something ugly is swimming just under the surface of the music as Davis warns, "You open your mouth again / I swear I'm gonna break it"; cringes, "You open your mouth again / Oh God, I cannot take it"; and finally lets his fists fly when he rages, "I fuckin' hate you!" over and over again.

Thematically, this album finds Davis screaming at ungrateful emotional and financial squatters in his life. It sounds like he's been carrying a lot of baggage for a lot of years. "I'm the one that keeps your lives so carefree," he reminds them on "Counting on Me," before launching accusations like "You sucked the life out of me" and "You're never there for me."

On "Deep Inside," he announces, "I'm not doing great / I feel like I'm dead," and explains, "I have been hiding / Wanting to be less / Giving to people / They take from me / Always they're bringing drama to me." He gets frustrated with himself for being such a pushover on "When Will This End" ("My God I hate this / Always take shit, and I let this go on / Why can't I break this? / I just take this as this goes on and on"), and he reaches his breaking point on "I'm Done" ("I like this game you all make me play / I'm done being there for others / ... I try to hold on, and you bring me down").

Davis does seem to want to salvage more than just his sanity. The knuckle-bruising lament "Everything I've Known" deals with the demands of fame over time and how they affects his relationships: "Our lives were good in every way / Too late, time after time our love just turned to hate / But we stayed by each other's side." Here, he reveals, "I feel so enslaved," and mourns, "I cannot survive alone / Feels like I've lost everything that I've known."

Musically, one of the most significant songs is the new bagpipe tune, "Let's Do This Now," which opens with cheery kilt music and marching drums before turning thunderous and threatening. Other key tracks include "Y'all Want a Single," which serves as a crude commentary on the music industry; "Play Me," featuring New York rapper Nas; and "Did My Time," an early single used in Lara Croft Tomb Raider: The Cradle of Life. The pained "Here It Comes Again," the deadly "Break Some Off," the gruff "Alive" and a hidden bonus of Korn's cover of Metallica's "One" complete the album.

HOT TOPIC: KSJO and Sloppy Joe's Homegrown goes live in a big way this Friday (Dec. 5) at the Edge in Palo Alto. ManMade God, which released its self-titled debut on American Recordings earlier this year, headlines the Homegrown 2003 show, reportedly with Stone Temple Pilots' Eric Kretz, who's worked with the band in the past, behind the drums. The night includes performances by Ones and Zeros, Primate, Automatic Animal and A Band Called Pain. Tickets to this all-ages show are $8 advance/$10 door, and doors open at 7pm. Also coming up at the Edge is Superjoint Ritual, featuring Phil Anselmo, on Dec. 17. ... Funk the Band plays a CD-release show this Saturday (Dec. 6) at the Britannia Arms in Cupertino.

PLAN AHEAD: Tim Rushlow, Dec. 4 at the Saddle Rack in Fremont; George Lynch, the Servants and Luv Planet, Dec. 4 at the Edge; Short Round, the Return, Shinobu and the Other Left, Dec. 4 at the Gaslighter Theater in Campbell; emaneht and Sweet Duration, Dec. 6 at the Quarter Note in Sunnyvale; Jonathan Richman featuring Tommy Larkins, Tub and the Phenomenauts, Dec. 7 at the Blank Club; Mike Marshall and Chris Thile, Dec. 9 at the Little Fox in Redwood City; Los Gatos Vatos, Dec. 9 at the Blank Club.
---
Send a letter to the editor about this story to letters@metronews.com.
---
[ Silicon Valley | Metroactive Home | Archives ]