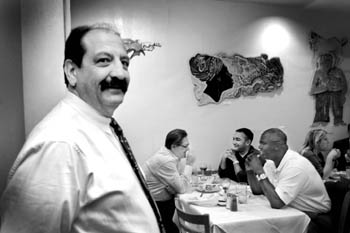 Photograph by Charlie Nucci

Bella Trio: Palermo owner Giovanni Doccogino peruses three happy customers--including, seated left, 49ers co-owner John York.

Puttanesca in Its Place

Savoring the old country, Sicilian-style, is as easy as stepping into Palo Alto's mellowest Mediterranean dining room

By Christina Waters

ITALIAN RESTAURANTS? We practically stumble over them in our pasta-rich paradise on the Pacific Rim. But there are times when you feel the need to be bathed in the atmosphere of that most combustible, vivacious and operatic of Italian climates. I refer, d'accordo, to Sicily.

For that--plus plateloads of earthy, saucy Mediterranean specialties--you need to occupy one of the white-linen tables tucked into Palermo. Named for Sicily's opulent first city, this vivacious slice of real estate on Palo Alto's University Avenue plunges you into an emotional culinary mix of ancient Greece, imperial Rome, medieval North Africa and contemporary Italy. Plus, from start to finish, practically the only English you'll hear spoken will be coming from your lips.

Essentially, dining at Palermo is like walking into classic Italian cinema. Crowds bustled in from the cold last week, greeted with lots of hand waving, hugs, kisses and cries of "Bella!" Palermo is small and can get crowded and invariably noisy with the sounds of robust Italian phrases. Go with it.

Teresa did, beating me to the basket of various breads that arrived the minute we sat down. I especially like the challenging crust of the francese, and the yeastiness of a fresh roll. You could do worse than opting for the sturdy house wines, a trebbiano d'Abruzzo white for Teresa and a ripe Montepulciano d'Abruzzo red for me (both $6). This was exactly the kind of wine that could have fueled Anna Magnani's cinematic moods.

Our waitress, an expert with a warm attitude and sense of humor, agreed with my choice of rotisserie duck ($16.95) and Terry's linguine sea bass with puttanesca sauce (perfect for naughty girls--$19.95). As usual, I ordered a plate of the ever-lovin' Sicilian staple rigatoni with meatballs ($14) to take home to Franco who adores Palermo's meatballs.

Bypassing the delicious lupara, an addictive blend of roasted peppers, garlic and mint, we began with a simple appetizer of artichokes Messina ($11.95), which was described as braised artichoke hearts with garlic and parmesan. What arrived was a bowl filled with thumbnail-size artichokes, slices of garlic and a lovely broth. The garlic, as well as the little thistles, tender and luscious, had apparently shed most of their flavor into the broth. "It's all about texture," Teresa guessed. Maybe, but the little green orbs were fun to eat. Mild, yet playful in the mouth.

Next came house platters bearing entree seduction. My spit-roasted half duck was as sumptuous as a plush palazzo. Gorgeous crisp skin burst at the touch of a fork to reveal the rich, moist interior. Duck is my red meat of choice, and Palermo's is uncompromising. Not only do you get to enjoy using your fingers to consume the various delicious parts of the duck, but the dish arrives with portions of the house garlic-laced spinach and fat cubes of roasted potato.

Teresa's linguine--yes, exactly al dente--was topped with an intense puttanesca red sauce and sprigs of fresh basil and studded with capers, black olives and tons of garlic. Slices of sea bass and tiny scallops lay between the layers of pasta and sauce--plenty of freshness in the seafood and intensity in the saucing.

Packing to go what we couldn't finish, we succumbed to Palermo's mighty, creamy and utterly authentic version of cannoli ($4.95). The crisp cookie roll oozed barely sweetened ricotta. Slices of fresh strawberry and lots of little chocolate bits provided playful counterpoint.

Many kisses were blown our way as we departed to a chorus of "Ciao." Ah, Palermo. This tiny, packed dining room somehow knows the secret to the good life. The glowing rotisserie fires, the family atmosphere, all that passionate language. And the food more than holds up its end. Go whenever you need to feel fully alive, and don't miss the proudly displayed photograph of the owners with Bill, Hillary and Chelsea Clinton, hung on the walls wedged in between the eccentric artwork.
---
Palermo Rotisserie
Address: 452 University Ave., Palo Alto
Phone: 650.321.9908
Cuisine: Southern Italian
Hours: Lunch 11:30am-2pm; dinner 5-10pm
Price Range: Moderate
---
---
Send a letter to the editor about this story to letters@metronews.com.
---
[ Silicon Valley | Metroactive Home | Archives ]