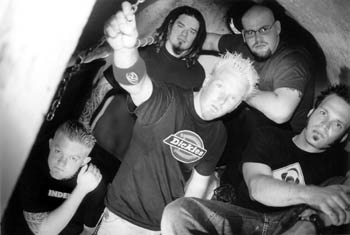 The 31 flavors of Reaction.

Zero Hour

Reaction 31 releases 'Return to Zero' Dec. 6 at the Pound in San Francisco

By Sarah Quelland

NEVER UNDERESTIMATE a band that has its own hand sign. At Reaction 31 shows, zealous fans throw the three-by-one finger crossover salute up as a show of support. The band also has a reputation for blowing out the power. Not every club can handle the group. But that's not the best of it for fans. Reaction 31 is finally releasing its latest recording, Return to Zero, Friday (Dec. 6) at the Pound in San Francisco, with Lica Sto, Baysik, Karate High School and Dopesick, plus special guest appearances by comedy duo Robbie and Andy and Insolence guitarist Mike Rowan.

One of the keys to the Reaction 31 dynamic is the layering of vocals between frontman Matt Creager and guitarist and secondary vocalist Mark Schlageter. The effect brings a twisted dementia to the band's personality. Meanwhile, elements of bands from Faith No More to Korn find their way into Reaction's urban street-savvy style. Intense and explosive, Reaction's energetic hardcore sound is masculine, intimidating and very confident. The CD captures the band's live presence.

Return to Zero kicks off with "Transcend," which builds suspense before shifting into the angry, confrontational chorus: "You didn't make us / You cannot break us / Whatever made you think you could take us down?" While "One I" detonates with the disjointed frenzy exhibited by System of a Down, the angry and roaring "Stale Mate" takes a (hed)pe approach detailing a bad breakup. Electronics merge with chunky guitars on "Sleepwalking," and metal meets ghetto creep in "Deep Rest." The abrupt "Tunnel Vision" sets a dark, tortured mood. Likewise, the dark and slow melodies of "Fade" (which the band will reportedly perform acoustically at the Pound) complement the extreme isolation of the song: "And I feel more lonely than anyone."

On "C-Sick," Reaction rages against suicide, and Creager grieves, "Why you had to go, I'll never know / But I don't care / Just want you back here." Fierce and furious, "Flagpole," "Force Feed" and "Severed & Sewn" round out the album, which ends with a long hidden track of the guys clowning around.

DIVIDED ATTENTION: Back in 1999, Divided was known as Drift. Unfortunately, there was a local band that went by the name Drist, and well, it was hard on everybody trying to remember which band was which. It's 2002, and Divided has really come into its own. World, jazz and metal collide in this rock-fusion band featuring vocalist Ryan Reynoso, double-neck guitarist Paul Borges, bassist Nelson Candido, drummer Paul Avila and percussionist Gabe Osorio. Divided's latest material can be found on its well-produced five-song Demo 2002 (available at www.dividedmusic.com). The band's sound has matured and is full of tight guitars, pronounced percussion and funky bass lines. Reynoso's vocals turn seemingly effortlessly from a choking, spitting rage to a tender, soaring sound that's as pure and sweet as an angel's song.

"Icarus" (written in memory of Rob Lumbre) reflects the grieving process through music: shock, rage, sadness and every emotion in between. Reynoso's literate lyrics refer back to the Greek myth ("I'm falling down on man-made wings"), which tells the story of a young man who escapes from a labyrinth on wings made of wax and feathers. He flies too close to the sun, his wings melt and he falls to his death in the sea. Through it all, Reynoso repeats the plea "Someone please save me."

It's the combination of Reynoso's increasingly dynamic and versatile vocal range and the adventurous and eclectic musical explorations of the musicians in the band that makes Divided so appealing. The San Jose band hits cities from Las Vegas to Phoenix on a minitour that runs through mid-December.

LUCKY SEVEN: Agenda Lounge celebrates it seventh anniversary this Friday (Dec. 6) with complimentary hors d'oeuvres and cocktails, DJs and a live performance by Hot Town Jubilee. Drop by the club for an invitation.

PLAN AHEAD: Trapt, Dec. 6 at Plant 51; Brickhead, Dec. 6 at the Quarter Note in Sunnyvale; Steve Hartsoe, Dec. 6 at the Koinonia Koffeehouse in Campbell; the Supersuckers, Throw Rag and El Buzzard, Dec. 9 at Plant 51; Proffitt and Golden Gods, Dec. 9 at Kleidon's Lounge.
---
Send a letter to the editor about this story to letters@metronews.com.
---
[ Silicon Valley | Metroactive Home | Archives ]