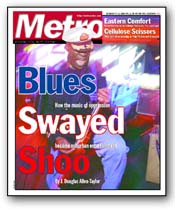 For the Week of
December 5-11
Cover: True Blues
Are the Blues a dying art form--abandoned by blacks and borrowed by whites--or just an ever-changing beat?
News: Material Girls
In "hostess bars" throughout the South Bay, Asian businessmen indulge in a cultural tradition of paying young women to fawn over them. But is something getting lost in the translation?
Root Cause: In which an Amerasian cruising the South Bay's multi-cultural strips can't decide on the color of her roots.
Public Eye: Political snub-fest.
Polis Report: Operator, please?



No Limits: Fremont's favorite house-party noise-makers, Forbidden, return to headline the town's newest rock house, Club Kaos.
Cold Comfort: Ice-T counts the bodies with heavy-metal band.
Twinned Vision: A new boxed set showcases the Miles Davis and Gil Evans collaboration.
Beat Street: Spearhead's Michael Franti has his doubts about the technological future.



Chinese Classic: Master Chef Renyi Liu presents Chinese culinary traditions in a Western style at Mountain View's sophisticated new Mei Long Restaurant.



Clipped Joints: How and why some of your favorite movies got trimmed.
Justice Murdered: Prejudices swamp a southern town in true-crime documentary 'Paradise Lost.'
Angels and Insects: It's a small world in the documentary 'Microcosmos.'



Heaven's Convicts: Tricksters saves Christmas in 'Three Angels.'



Ansa Fans in Ghostly 'Hand': A new novel about a perfect woman and her otherworldly lover strikes out on three very different levels.
Wonder Wedding: The de-energized Man of Steel finally ties the knot with Lois.