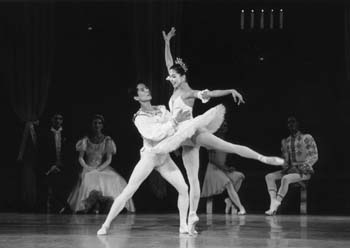 Photograph by Marty Sohl

Sight for Tsar Eyes: The Tsar and Tsarina (Kwang Suk-Choi and Anna Lobe) perform the Grand Pas de Deux from 'The Nutcracker.'

Holiday Fairy Tale

Ballet SJ Silicon Valley's 'Nutcracker' bounds with charm and beauty

By Julia Chiapella

EXTRAVAGANTLY LAVISH, predictably festive, The Nutcracker is a holiday staple, and Dennis Nahat's version for Ballet San Jose Silicon Valley is a spectacle of the richest kind. From its opening scene of street-front revelers to the sumptuous ballroom at the ballet's near conclusion, this Nutcracker practically leaps from the stage in a tour de force of costumes and scenery.

As magical as the best of fairy tales should be, the story concocted by Nahat and Ian Horvath is loosely based on the E.T.A. Hoffman story that fueled the music by Tchaikovsky, music that has become as synonymous with the holiday season as candy canes. And Ballet San Jose's Nutcracker is just about as sweet.

Full of charm and the blushing beauty of romance imagined, it sweeps broadly from a Dickens-era holiday celebration to Maria's dream world, where concubines and courtiers take the stage. The striking set of the Tannenbaum house provides the backdrop for Act 1.

It's a frivolous occasion, and David Guthrie's visually stunning costumes and scenery are the trump card of the production. Here we are introduced to Godfather Drosselmeyer who brings a spectacular set of gifts to the members of the household, including, of course, the nutcracker.

Dancers rotate roles throughout this run of Nutcracker, but on opening night Nahat brought such focus and energy to the role of Drosselmeyer that the first act was entirely his. Vibrant, theatrical and completely absorbing, he embraces Drosselmeyer with an instantly agreeable verve.

No matter that the dancing here is negligible; it is a captivating, enchanting bit of drama that utterly succeeds. Drosselmeyer tells an engrossing tale of a Prince and a Mouse King that enthralls the young Maria. Once the party is over, she falls asleep and dreams her way into the midst of Drosselmeyer's story.

For Friday's opening performance, Maria Jacobs danced the part of Maria with a simple and fluid perfection. She radiates a tender, bright-eyed innocence that is well suited to the role, and she executes each move with competent aplomb. When she meets Prince Alexis, performed with strength and grace by Ramon Moreno, it is a welcome encounter. The two dancers are imminently watchable.

WHERE THIS PRODUCTION unravels, however, is in the ensemble work. The Snowflakes that guide Maria and Prince Alexis through a winter wonderland dance with a disheveled sense of place, at times unsure and timid in the execution of their steps.

It's a glorious scene, one that reprises the best of winter's magic. This particular ensemble is made up of trainees and members of the Ballet San Jose's school, and as such, it's almost possible to overlook the near-mishmash of legs and arms created by the Snowflakes, but not quite.

Act 2 finds the two lovers journeying to the land of Muscovy, where they are treated to a sequence of dancers in foreign lands. By Act 1's standards, this fare is second-rate, not nearly as provocative or engaging as its predecessor.

Particularly disappointing is Scene 2, set to the ballet's most languorous movement yet choreographed without thought for the sensual longing inherent in the music. Instead, it is a showcase for Joanne Jaglowski's astonishing flexibility, which is admirable but far from evocative.

Stalwart principal Karen Gabay dances her way competently through the familiar notes of the Sugar Plum Fairy movement, which has been transformed into the throne room of Muscovy. The choreography here is flat, not doing justice to either Gabay or the music.

But the audience recorded its approval with admiring applause when Gabay joined pas de deux partner Raymond Rodriguez for a final, dramatic turn. A glorious ballroom scene ends Maria's dream and she is carried sleepily to bed by her father.

As spectacle, the Ballet San Jose's Nutcracker scores high on the effects meter. It has plenty of visual panache backed up by solid dancing from the principals. Though not without its weaknesses, this holiday standard more than satisfies.
---
The Nutcracker plays Dec. 8-10 and 19-28 at the San Jose Center for the Performing Arts, 255 Almaden Blvd., San Jose. Tickets are $20-$65. (408.998.TIXS)
---
[ San Jose | Metroactive Central | Archives ]