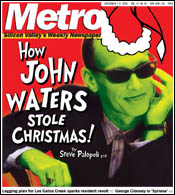 For the Week of
December 7-13, 2005
Cover Story: How John Waters Stole Christmas!:
Crazy carols, ex-cons, meet-and-greets and Christmas terrorism—it's all in a season's work for John Waters.
News: Chopping Mad:
Residents around Los Gatos Creek are up in arms about San Jose Water's logging plan.
The Fly: This past week was surprisingly good to La Raza Roundtable chairman Victor Garza, yet he still isn't happy.



Silicon Alleys: True Local Flavor.
Techsploits: Music Is Evil.
Rev: 'Crap Cars' features page after page of crappy cars with their original marketing photos and Richard Porter's pithy analysis of what makes a bad car really bad.



Oil Slick: Politics and oil muddy the waters in confusing international thriller 'Syriana.'
Lion Down: 'The Chronicles of Narnia: The Lion, The Witch and The Wardrobe'—critter mayhem in a Christian land far, far away.
Waterless World: Los Gatos-raised filmmaker Ben Rekhi's indie movie 'Waterborne' condemns L.A. to terror.
Love Eternal: 'Portrait of Jennie' remains the perfect romantic movie almost 60 years later.



Strung Out: Charlie Hunter brings his trio back to the West Coast for the holidays.
Happily Deranged: Kids' show 'Pete & Pete' mined underground rock way before 'The O.C.' did.
Club Life: San Jose Museum of Art's December Performance Series.



Mag Fever: 'The Complete New Yorker' on eight tiny DVDs fulfills a magazine hoarder's wildest dreams.
Book Box: 'The Wit in the Dungeon' and 'Taisho Chic: Japanese Modernity, Nostalgia and Deco.'



Breaking Through: Aldo's winning formula has cracked one of Silicon Valley's toughest markets: Los Altos.
Silicon Veggie: Who Picks These Dates?
5 Things: Habits of Highly Successful Waiters.



Taffeta Pull: New tunes and chatter add holiday charm to Tabard's 'Taffeta Christmas.'
Fairy-Tale Finery: TheatreWorks ventures deep 'Into the Woods.'
Pride Weeks: San Jose Rep stages a 'Pride and Prejudice' with a maximum of dialogue and a minimum of sets.



Please don't forget to write! Metro welcomes letters. Like any great work of art, they should be originals — not copies of letters sent elsewhere. Include address and daytime phone (for verification purposes only). Letters may be edited for length and clarity or to correct factual inaccuracies known to us. Postal: Metro Letters, 550 S. First. St., San Jose, CA 95111. Fax: 408/298-0602. Email: letters@metronews.com. Emailers, please include name, city of residence and phone number. Letters printed will list email address unless otherwise specified. Letters to the editor are not currently published in the online version of this paper.