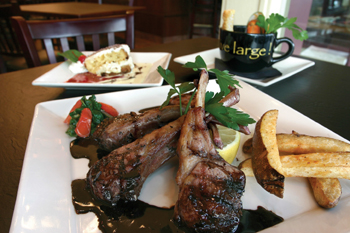 Photograph by Felipe Buitrago

Chops Shtick: Aldo's agnello al' barolo is grilled lamb chops in a savory demiglaze.

Breaking Through

Aldo's winning formula has cracked one of Silicon Valley's toughest markets: Los Altos

By Stett Holbrook

DOWNTOWN Los Altos does not need another jewelry store. Or another hair salon. The place is loaded with them. However, what the city does need are more good restaurants. There are a few options in town, such as Estrellita, the Los Altos Grill and Chef Chu's, but after that it's slim pickings. Diners who want more choices for dinner are forced to drive to Palo Alto or Mountain View.

That's why the opening of Aldo Los Altos on Main Street this summer was a major event in this sleepy, upscale burg. Downtown is ghostly quiet after dark and the Italian restaurant has injected some life into this corner of town with its lively wine bar, friendly service and welcoming atmosphere. While the restaurant's conviviality sometimes outshines the food, Aldo has quickly become a local favorite because of its reasonable prices and casual, good-times vibe.

The restaurant is four months old, but its history goes back 16 years. The story goes like this: Back in 1989, Los Altos resident and restaurateur Alan Moll sought to buy out Donato De Marchi's local pasta business and go into business with him. Just as Moll was pressing De Marchi to name his price, Mother Nature interrupted their negotiations with the Loma Prieta earthquake. As the two dove for cover, their business plans crumbled along with many Bay Area homes and businesses. While the two became friends and engaged in joint business ventures over the years, their restaurant plans sat on the shelf until a Main Street storefront recently became available and they revived their idea for an Italian eatery.

Los Altos is a tough nut to crack for restaurateurs, but Moll, who owns the wholesale Good Earth Bakery and the Good Earth Patio Cafes, and De Marchi, owner of Emilia Romagna Pasta and San Francisco's Vino e Cucina Trattoria, seem to have hit on a winning formula: low prices; casual, family-friendly atmosphere; and modest portions of decent food. Aldo, which is an amalgam of "Alan" and "Donato," serves a menu of Italian and Italianish dishes in addition to a list of "cicchetti," bite-size snacks inspired by the small plates wine bar food of Venice.

Aldo is a handsome restaurant. The soaring front windows, wooden floors, open kitchen and wood oven­backed bar act to create a warm, appealing glow that draws diners in like bees to a flower. But the servers' black T-shirts emblazoned with Aldo's logo, the laminated menus, the "Eat small ... live large" slogan on the front window and menus, and the restaurant's in-store gift shop make the place feel a bit like a chain restaurant. In spite of its premeditated cutesiness, Aldo has genuine neighborhood appeal. Locals hungry for a fun, low-cost meal close to home pack the place even on weeknights.

That said, over the course of two visits, none of the food I tried was great; most of it ranged from pretty good to not so good. From the cicchetti menu, the best dishes I tried were the ginger-and-red-onion-accented tuna tartare ($7) and the caprino ($5), house-made herb and cheese flat bread topped with goat cheese. The breaded green olives stuffed with ground beef ($4) pack big flavors that wake up your mouth and make you thirsty for a glass or two of wine from Aldo's reasonably priced wine list.

On the antipasti menu, the calamari grigliati ($9) is described as grilled-then-chilled baby squid. Served in a cocktail glass with lemon-infused olive oil, the calamari is fresh and tender but had no detectable grill flavor whatsoever.

Aldo's salads are good, tidy portions of fresh greens served on beautiful art glass plates. But they're often overdressed. The best is the Aldo salad ($8), an elegant combination of mixed greens, shaved fennel, Parmagiano Reggiano and crumbled fried sausage. Good, too, is the Caesar ($7), but avoid the panzanella ($6), a bread salad with diced cucumbers, tomatoes, capers, red bell peppers and red onions in a garlicky vinaigrette. While the vegetables are good, the mushy, pasty (and skimpy) bread chunks drag the salad down.

From the list of pastas, lasagne arrotolate ($14) is described as one of the restaurant's specialties, but I don't know why. Gummy sheets of spinach pasta are rolled around cooked ham, Gruyère and parmesan cheese and spinach, and then drowned under an ocean of cheese-cream sauce. It's a goopy, cheesy mess. Much better is the tortelli d'Anatra ($13), ethereal egg pasta filled with mascarpone cheese and roasted duck in a barely there tomato and sage sauce. Also try the gamberi e arugula ($16), sautéed shrimp and peppery arugula tossed with fettuccine in a light tomato sauce.

Gamberoni lesolo ($18) is one the most poorly conceived dishes on the menu. It is appealingly described as "giant prawns and pancetta, crisped and served with peperonata and polenta." "Crisped," I learned, is a euphemism for "heavily battered and deep fried." The prawns were indeed giant and might have been good, but all I tasted was the heavy cornmeal crust. The peperonata, a stewy mixture of bell peppers, onions and eggplant, tasted aggressively of fryer oil, and the grilled triangles of polenta were salty.

A better bet is the pan-roasted duck leg and breast ($16). Served with sautéed spinach and creamy polenta in a balsamic-raspberry reduction, it's a hearty, Cal-Ital dish.

Desserts ($6) are decent. The thick, New York­style pumpkin cheesecake satisfied my once-a-year pumpkin pie craving, and the cioccolata, a dense chocolate and walnut tart, delivered all the chocolate flavor a chocolate lover could want. But take a pass on the coppa gritti. The tooth-achingly sweet dessert combines chilled zabaglione sauce with ladyfingers and buries it under a cubic yard's worth of whipped cream.

In spite of the restaurant's occasional lapses in the kitchen, the line out the door and the dining room full of happy people at Aldo is a testament that its 16-year incubation was worth waiting for. It's not perfect, but Los Altos residents have quickly made the place their own.
---
Aldo Los Altos
Address: 388 Main St., Los Altos.
Phone: 650.949.2300.
Hours: Lunch 11:30am-2:30pm Mon-Fri and dinner nightly from 5pm-close.
Price Range: $11-$18.
---
---
Send a letter to the editor about this story to letters@metronews.com.
---
[ Silicon Valley | Metroactive Home | Archives ]