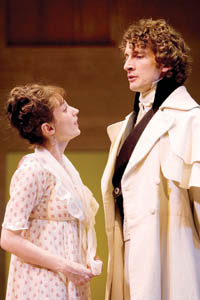 Photograph by Tim Fuller

Dicing With Darcy: Julia Dion's Elizabeth Bennet puts her sights on Anthony Marble's Mr. Darcy.

Pride Weeks

San Jose Rep stages a 'Pride and Prejudice' with a maximum of dialogue and a minimum of sets

By Marianne Messina

I SUPPOSE THAT one has to flout expectation to get some distance from a grand tradition (and decades of BBC dominance over it) like Jane Austen's Pride and Prejudice. Expect no fancy tea services in Jon Jory's stage adaptation of this early-19th-century novel, no imperious paintings, busts, grandfather clocks in the décor, no chandeliers over the ballrooms or maze hedges in the gardens. Perhaps those who love to immerse themselves in a historic period will find this somewhat disappointing in the current San Jose Repertory Theatre production. Robert A. Dahlstrom's scenic design flanks the mostly open stage space with the starkest of brick walls (more like Dickens than Austen). So period-lovers will have to seek solace in Michael Krass' costume designs, especially strong on the male characters.

Though this option lets us lose some perspective, for instance the crushing challenge of negotiating a Regency parlor with grace, it picks up cleverness and humor. The three tiers of windows in that brick frontispiece function as both acting balconies and lighting features. In one ballroom scene, cutout musicians appear in the upper windows as silhouettes against evening light. The production continues in this light-hearted fashion and the audience gets it. Putting an inordinately large cast to good use, out-of-scene characters wheel two vaguely shrublike cutouts (brown, no less) across the stage to suggest gardens; they place a miniature house on stage to illustrate a description; they send a miniature horse and carriage wheeling by.

Because a change of setting is no more difficult than moving into another stage zone, the party admiring Darcy's noble lineage in portraiture is suddenly admiring the trees—presumably traversing a circular staircase, several "halls," countless steps, walkways and grounds in two hurried steps. A recent audience met these disparities with much laughter.

Naturally, the sparse/humorous setting throws emphasis on Austen's language, but it also helps make up for linguistic obscurity, since early-19th- century language was not on intimate terms with instant gratification. Only an amazing and gifted cast could handle a piece with so much weight on the acting—and this cast does. The overarching story is a halting but powerful love affair between Elizabeth Bennet (Julia Dion) and Mr. Darcy (Anthony Marble). While she is proud, he is snobbish—though he later admits it was merely learned behavior. And their courtship is interrupted by false information, misunderstanding and the Bennet family curse: the five Bennet sisters are "all out [husband hunting] at once," as Lady De Bourgh (Pat Nesbit) says with a gasp.

Darcy is incredibly laconic, so actor Marble pours all the character's charm into his comportment. Tapping into the power of body language, Marble gives Darcy a heroic way of covering space. Dion's Elizabeth Bennet has a surprising warmth, where many productions are overanxious for her character to impress with wit. When this Elizabeth sees Darcy for the first time, she is taken by surprise at the strength of her feeling, even briefly at a loss.

The weakest link perhaps comes in the relationship between Jane Bennet (Krista Hoeppner in a performance that felt unstable) and her hesitant beau, Mr. Bingley (an affable but unspectacular Liam Vincent). Peggity Price is irresistible as busybody Mrs. (Mom) Bennet, the family liability due to her pushy desperation. David Pichette is not just amiable as the Bennet father; he skillfully gives the impression of a man who keeps great reserves of love hidden from the social sphere (the love from which Elizabeth draws her self-assuredness). Pat Nesbit is impressive, going from rags to riches as she plays both the coarse-accented housekeeper and the intimidating aristocrat, Lady Catherine de Bourgh. In fact, in her few lines as the housekeeper, she's a scene stealer.
---
Pride and Prejudice, a San Jose Repertory Theatre production, with Arizona Theatre Company and the Alliance Theatre, plays Wednesday at noon and/or 8pm, Thursday-Friday at 8pm, Saturday at 3 and 8pm and Sunday at 2 and 7pm through Dec. 30. (No shows Dec. 24-25). Tickets are $25-$55. (408.367.7255)
---
---
Send a letter to the editor about this story to letters@metronews.com.
---
[ Silicon Valley | Metroactive Home | Archives ]