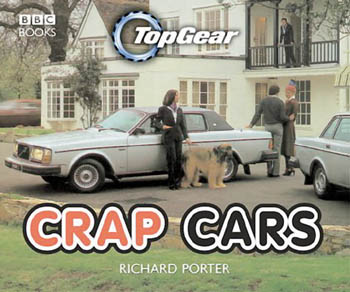 Rev

Crap Car

The book features page after page of crappy cars with their original marketing photos and Porter's pithy analysis of what makes a bad car really bad

By Novella Carpenter

WOULDN'T YOU know that the luscious coffee-table book that attracted my attention at a recent jaunt to a bookstore—and got me thinking about gifts for the holidaze—is titled, simply, Crap Cars. The book is a visual and verbal assault on 50 of the "worst" cars ever made in the last 20 years. If I had written this book (why didn't I?), it would have been too mean, too sarcastic. But under car columnist Richard Porter's light British hand, Crap Cars is a hilarious delight.

The book features page after page of crappy cars with their original marketing photos and Porter's pithy analysis of what makes a bad car really bad. Sure, the exact criteria for a crap car is a little hazy, but the author acknowledges in the introduction that the wide variety of choices was "like gorging on the biggest buffet you've ever seen, and just as likely to make you puke." I'm in love with this fella.

The repeating large sidebar questions that ask "If this car was ..." alone are worthy of your attention. For the Cadillac Cimarron, for example: "If this car was ... a Cavalier, you'd have paid a lot less, dumbass." Or the Ferrari 400: "If this car was ... an actual horse you'd shoot it."

Moving past the one-liners, I did learn a lot about obscure vehicles I had never heard of before. Like the Nissan NX (1991­93), which featured interchangeable rear ends that could transform the car from a sedan to a small wagon. Or the Volvo 262C (1977­81), which answered the question: "'What would happen if you sliced the roof off a Volvo sedan and replaced it with what appears to be the top of a mid-'70s pimp-mobile?'" I also had never seen a Dodge Rampage (1982­84) before, otherwise it would have made my car/pick-up-truck column a few weeks ago.

As for the others, I had the unpleasant experience of living them all over again. Since I was poor and young in the 1980s (the era of most of the dismal crap cars), I not only had heard of but actually owned or admired deeply many of the vehicles in Crap Cars.

These include the Nissan 300ZX ("lazy koala"), Chrysler K Car ("weedy little grief-box") and the Datsun B210 ("steering like a wheelbarrow full of logs"). I had forgotten about how the Pontiac Fiero had those plastic panels that the sun eventually bleached out to an off-shade of pink. Or how truly awful a Chevy Citation looked. Oh no! I just realized I was shuttled around in a Chevrolet Lumina APV the entire time I was on vacation in Florida. Here it is in Crap Cars —No. 8. I'll never tell you the No. 1 crap car; you'll have to get the book yourself.

Author Porter is a saucy little number himself and writes with a dry humor that I adore for Evo car magazine and British television. Porter also has a great website called www.sniffpetrol.com. In the style of the Onion, it is a fake car-news website, written like a blog. For example, one entry says, "Following the success of this year's Tokyo Motor Show with its dazzling array of concept cars and far-reaching glimpses into the future, the show's organisers have exclusively revealed that next year's show will be held on the moon."

Or less absurdly, one article details how Americans are taking horrifying steps as the gas crisis takes hold. "Experts say such occurrences can only mean one thing; that the gas price situation has hit so hard, some Americans may even have taken to the last resort of 'walking.' 'I saw this guy yesterday, he was moving along the street, but he didn't have a car,' said one shocked eyewitness. 'He was kind of moving his legs systematically, one after the other to achieve some sort of forward motion. I can't say how, but it sure looked like he was doing this without burning any gas whatsoever. May God have mercy on us all.'" Thank you, Mr. Porter, for making me laugh.
---
Send a letter to the editor about this story to letters@metronews.com.
---
[ Silicon Valley | Metroactive Home | Archives ]