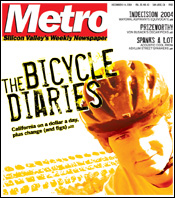 For the Week of
December 8-15, 2004
Cover Story: Geography of Abundance:
One man's two-month quest to travel the state of California by bike, eating only what he can find or forage. He learns to really, really love the lowly fig. This is his story.
News: Among the Ruins
Downtown's Inca Gardens will soon close up shop. Should the city save it?
The Fly: This week's political bites.



Biter: Standup comedy routines on drugs.
Techsploits: Annalee Newitz joins in the holiday spirit by talking about the many ways capitalism has screwed you this year.
Rev: Will You Please Be Quiet, Please?



Houses of Memory: Artists try to ravel up the threads of past lives in shows at SJ Museum of Art and SJSU.



Oscar Glances: It's never too early to start handicapping the Academy's race for acting honors.
Tooth Decay: Wesley Snipes hopes to be counted out in 'Blade: Trinity.'
Caper: 'Ocean's Twelve' makes the case for the nonmovie.
Noble Romans: Marlon Brando showed the two faces of a politician as Marc Anthony in 1953 film of 'Julius Caesar.'



Vox Humana: The mysteries of the Asylum Street Spankers revealed.
Heart of Glass: Rethinking an American icon.
Spirit Fingers: 'Cheer Music' is not healthy for sweater monkeys, the long of attention and other living things.



Star Power: After 40 years, Estrellita still shines.
Live Feed: Pho Town.
5 Rooms With a View: Silicon Valley boasts a few restaurants where the view enhances the food, or maybe it's the other way around.



A Different Kind of Theater: GrooveLily experiments with 'Striking 12' at TheatreWorks.
Sweet & Sour: Not all seasonal memories are fond ones in Sandra Tsing Loh's 'Sugar Plum Fairy.'



Please don't forget to write! Metro welcomes letters. Like any great work of art, they should be originals — not copies of letters sent elsewhere. Include address and daytime phone (for verification purposes only). Letters may be edited for length and clarity or to correct factual inaccuracies known to us. Postal: Metro Letters, 550 S. First. St., San Jose, CA 95111. Fax: 408/298-0602. . Emailers, please include name, city of residence and phone number. Letters printed will list email address unless otherwise specified. Letters to the editor are not currently published in the online version of this paper.