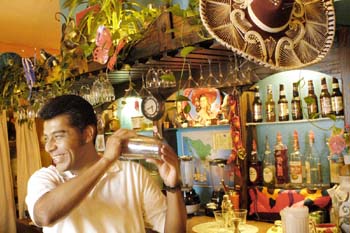 Photograph by Paolo Vescia

Shaking Up Tradition: Armando Nacias mixes a top-shelf margarita at Estrellita's bar.

Star Power

After 40 years, Estrellita still shines

By Stett Holbrook

SILICON VALLEY has more than its share of Mexican restaurants, but Estrellita Restaurant stands out as a star. The restaurant's reverence for regional Mexican cooking separates it from the enchilada-and-taco masses. The menu is full of Mexican-American standards like nachos, burritos and fajitas, but it is the changing selection of specials that makes Estrellita worth seeking out.

Family-owned Estrellita has been a fixture in Los Altos since 1958. Current owner Russell Clark Corlay, 34, took over two years ago. He started working there when he was 10 years old, back when his mother and aunt ran the place. It was they who introduced the changing menu of regional Mexican dishes. Many of the recipes come from their native Chiapas, the southernmost state in Mexico. Chiapas is home to a large indigenous population, which has helped define the state's cooking. Chiapaneco cuisine is based on corn, an array of chile peppers, fruit, nuts and other local ingredients.

As you walk into Estrellita, there's a table that displays the specials of the month. You can even try some of the sauces to see if you like them before ordering. This is a novel way to introduce gringos to some of Mexico's lesser-known dishes. On my visits, the specials included several hearty soups that were perfect for winter. The restaurant has now switched over to its December specials, which include tamales, mole and atole, a thick, warm beverage made with masa.

"It's the specials that take me back to Mexico," says Corlay.

A double-item special of chicken habañero and pork cascabel was one of the best I tried. While I would have preferred a leg to the verging-on-dry chicken breast, its fruity, spicy but restrained sauce was great. The cascabel chile sauce was excellent, too, smoky sweet with a hint of cinnamon. Posole ($9.95), a pork and hominy stew popular throughout Mexico, was as good as I've had stateside, but far too spicy. I have a high tolerance for spicy food, but it is probably too hot for 90 percent of those who would order it.

One of the more unique specials was sopa de acelgas ($8.95), chard soup. The vegetarian soup is based on a warming chile and tomato broth and studded with corn and big leaves of chard. Give me this over tortilla soup anytime. Siete mares ($12.95), one of Mexico's best-known soups, was great and packed with mussels, shrimp, fish and other seafood in a robust, tomato-based broth.

From the regular menu, the sopes appetizer ($6.95) with shredded beef or chicken offers another example of Estrellita's faithfulness of authentic Mexican dishes. Sopes are small masa cakes topped with shredded meat or cheese, but too often the dish is supersized in the United States to become a Hummer-class tostada. But at Estrellita's, the silver-dollar-size appetizers are made with restraint. La Gringa ($10.95), strips of surprisingly tender chile-powder-marinated chicken breast and melted cheese sandwiched between flour tortillas, is a messy but good entree. While it tasted fresh, the pescado a la Veracruzana ($15.95) is a mediocre fillet of rockfish buried under too many red and green bell peppers.

Estrellita's one downfall is its inconsistent service. While the waitstaff are friendly, they tend to disappear after you've been seated. On my first visit, the restaurant was busy and apparently short staffed. So I let slide the fact that I had to flag down two waiters in order to finally get someone to take my order. On a second visit, it was far less busy, but the service was worse. Shortly after being seated, we received a basket of chips and the restaurant's good red and green salsas and made our selections. But when we tried to place a drink order, no amount of arm waving could attract attention. When we gestured to the bartender, he hooked his thumb and pointed toward our AWOL waitress. I finally got up to tell her our margaritas had gone dry, and she told me to wait a minute in a less than cheery tone. Tired of waiting, I finally went to the bar to order.

But once we got our drinks, they were quite good. Estrellita's serves a number of margaritas with top-shelf ingredients and hand-squeezed limes. La Nena margarita ($7.50), made with Sauza Commemorativo añejo tequila, Cointreau, lime and orange juice and a spring of mint, is especially sabroso. Next time, maybe we'll order a pitcher, so we can devote our full attention to Estrellita's latest specials of the month.
---
Estrellita Restaurant
Address: 971 N. San Antonio Rd., Los Altos
Phone: 650.941.8976
Hours: 11am-9pm Mon-Thu; 5:30pm-9:30pm Fri-Sat
Price range: $8-$14
---
---
Send a letter to the editor about this story to letters@metronews.com.
---
[ Silicon Valley | Metroactive Home | Archives ]