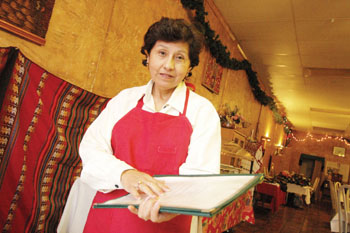 Kitchen Closed: Olga Enciso-Smith's downtown restaurant, a treat for diners looking for a taste of Peru, is threatened with closure because of a dispute with Smith's landlord. Enciso-Smith has asked civic officials to help her keep Inca Gardens open.

Among the Ruins

Downtown's Inca Gardens will soon close up shop. Should the city save it?

By Najeeb Hasan

ONE AFTERNOON last month, about an hour after the lunch-time rush, Olga Enciso-Smith, dressed in a spotless white blouse and a bright red skirt hanging above her knees, was bustling about her downtown restaurant, Inca Gardens, finishing up work still yet to be done.

The gleaming, stainless-steel buffet platters were not put away. There was a mound of paperwork on one of the tables she needed to sift through. And there were, of course, those remaining diners who had straggled in late. Despite its pleasant tan-themed interior—with its brick walls, its barely scuffed stone floor, its pastel artwork brought over by the kids at De-Bug—Inca Gardens, which has for the last decade provided downtown with a taste of Peru, had the feel of a campaign office whose candidate was far behind in the polls.

It was only weeks ago that the public discovered that Enciso-Smith could be forced to close her shop—her building had changed ownership, and the new landlords, rather than renew her lease, had put her on a month-to-month tenancy. Though Enciso-Smith's prospects may be dim, they are no dimmer than the future of several other small-business owners who have seen their grasp on downtown grow weaker and weaker.

Indeed, on that Friday afternoon, just after the lunchtime rush, another downtown small-business owner arrives at Enciso-Smith's restaurant. He begins sizing up the establishment, bringing in a step ladder. "I apologize," he tells Enciso-Smith. "I just want to poke my head in the ceiling." When he's approached by a reporter from Metro, the man at first remains silent. "I can't talk right now," he says. "I hope you understand." Then, rethinking his stance, he pleads anonymity. "I don't want anybody to know that they're forcing me to leave," he says. "I don't want to scare off my employees."

But he stays briefly anyway. "For the very same reasons that Olga's moving, I have to move," says the business owner, who is thinking about moving into the Inca Gardens location. "I like Olga. I've known Olga since I opened up downtown. I think you can imagine how somebody might feel. To me, the story is the developers, people that own the property here. I think they run over people. They can afford to keep places vacant. They can afford to not like people. It pains me to see this happen to Olga. When you're trying to run a business and make time for your family, this is the last thing you have time for."

Subsidy City

"Have you ever seen Motorcycle Diaries?" Enciso-Smith asks. Without waiting for an answer, she completes her thought. "There's a scene in the film that shows Peru. A peasant is asked to leave his farm after planting the wheat. That's in Peru. And I've been asked to leave after putting the tile floor in my restaurant in the United States." She grimaces for effect. "My American dream has become a nightmare."

For the past decade, Enciso-Smith has been one of the most visible critics of San Jose's Redevelopment Agency, an offshoot of city government responsible for improving the economic climate of downtown. She has often provided scathing commentary about the agency's antipathy toward independent business owners in the city.

Enciso-Smith opened Inca Gardens after buying out a soon-to-close Chinese restaurant. "They were ready to call the auctioneer," she recalls. And since Peruvian chefs are rare in these parts, Enciso-Smith always relied on her many travels to her home country to ensure her restaurant's authenticity. Her Andean corn, freeze-dried potatoes, herbs and hot peppers are all imported from Peru.

For the past three years, her sidewalks have been virtually closed to pedestrians because of construction along San Fernando Street. She's had to relinquish part of her restaurant space as an easement to another RDA-subsidized project. And now, when things are finally looking up, when the potential for foot traffic from the new City Hall building is close to being realized, she finds herself being evicted from her own eatery.

Her former landlord, Craig Thrush, promised to renew her lease, Enciso-Smith says. "He said no problem in renewing the lease," she says. "I wanted to have a lease. I improved the whole building. I remember, he was paranoid about fires. He would come and look into the kitchen. Of course, everything was fine. I told him, you are worried about fires, I'm worried about the lease. He said, 'No, don't worry. I'll do it at the last minute.' A year ago, he sold the building and didn't renew the lease."

For Enciso-Smith, her plight is too familiar an occurrence in downtown San Jose, where independent and ethnic restaurants struggle to keep a foothold, but the city, in the eyes of Enciso-Smith, prefers to support chain restaurants. Inca Gardens can, of course, potentially benefit from various Redevelopment programs, such as the agency's Facade Improvement Program. But so can nearly any other downtown restaurant.

What upsets Enciso-Smith, however, are what she sees as indirect subsidies doled out to out-of-towners. Meanwhile, local places like hers, which give downtown character and affordable variety, are allowed to die without a helping hand.

"We do a better job of running them out than keeping them here," says Keith Watt, president of Le Petit Trianon on Fifth Street. "I think the city and Redevelopment [don't] focus on individuals, and if you don't keep individuals, you lose half the pie. Olga and I are sort of endangered species here."

Eyebrows were raised at the $9 million subsidy given to the Hotel St. Claire that indirectly aided the Il Fornaio restaurant. Then the popular Mexican restaurant Casa Castillo was displaced from downtown to renovate the Twohy Building; an Asian fusion restaurant will soon inhabit Casa Castillo's former location. It's gotten so bad that downtown chains benefiting from indirect subsidies are complaining about subsidies to other chains, as was the case when the Fairmont's Grill on the Alley complained about the Redevelopment Agency's courtship of McCormick & Schmick's Seafood Restaurant.

"I think the RDA shouldn't be involved," says longtime San Jose restaurant owner Steve Borkenhagen of Eulipia. "They should only be involved in public projects. Whether it's me or any recent project like McCormick or any other restaurant-related deal, I resent when the free market is tainted by restaurant deals and subsidies. And nothing is direct. They're clearly indirect subsidies. I want [the RDA] to tell me what their involvement in the McCormick or the P.F. Chang deal was, or, for that matter, any hotel-related deal. I actually had an argument with [former RDA director] Susan Shick. She wouldn't characterize those deals as subsidies." He shrugs. "Sometimes it turns on semantics."

Advocates of ethnically owned businesses are also less than impressed with the city. "My concern is when they remove these businesses that have been in downtown for the last 20 years," says Julio Baisa, president of a local Hispanic business association. "We have many other Latino businesses in the same situation [as Inca Gardens]. They have to find another location, and we're still trying to figure out the reason why. So far, we haven't found the right response from the city."

Meanwhile, the Redevelopment Agency insists nobody's playing favorites. Harry Mavrogenes, the director, points out that about half of the agency's restaurant subsidies have gone to independent, ethnically owned restaurants. He stresses that business owners usually apply to the RDA for a specific program. But there is no program designed to alleviate tenant-landlord disputes. "She's not paying any significant amount of rent," he says.

Mavrogenes agrees the future of Inca Gardens looks bleak. But he says that doesn't mean the downtown is in danger of losing its mom-and-pop influence. "There's plenty of restaurants unique to the downtown," he says, "not just the chain restaurants. There's a good balance between the two. He cites 15 times, dating back to 2001, in which RDA staff members have tried to help Enciso-Smith, but that she hasn't always cooperated with their efforts. "We'd still like to find a way to help her," he says.

Borkenhagen, who sympathizes with some of Enciso-Smith's criticisms of the RDA, sees her fall as inevitable. "What I would say to Olga, if she was sitting right here, is that it's a cold, cruel world out there," Borkenhagen, the free-market defender, says. "If the landlord wants somebody else, what are you and I going to do about it? If my landlord told me I wasn't welcomed back, I wouldn't go out and call all the newspapers. I have a lot of sympathy for Olga. But Americans vote with their wallets. If Americans want the Cheesecake Factory, who am I to say they shouldn't get it? I know buildings change hands. I'm just not going to say that the landlord should be forced to deal with Olga."
---
Send a letter to the editor about this story to letters@metronews.com.
---
[ Silicon Valley | Metroactive Home | Archives ]