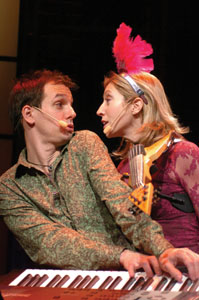 Photograph by David Allen

Flower Power: Valerie Vigoda and Brendan Milburn offer a music-theater take on the holidays.

A Different Kind of Theater

GrooveLily experiments with 'Striking 12' at TheatreWorks

By Marianne Messina

THEATREWORKS' holiday season offering, Striking 12, is not your ordinary theater fare. Performed by the band GrooveLily, it is a cross between a staged reading, a series of comedy skits and a musical. Striking 12 loosely tells the story of one "grumpy guy" (represented by band keyboardist Brendan Milburn) on New Year's Eve. Though the grump's friend keeps calling to get him to go to a party, Brendan/grumpy guy doesn't want to go out. Judging from the narrative song, he's someone who feels that hooking up with old friends is not a fun time, but an accounting of his life before a jury. So instead, Brendan stays home perusing "The Little Match Girl." From there, he reads the story with various digressions—and for both the little match girl striking her last matches and Brendan, avoiding the stroke of midnight, the countdown is on.

The theatrical story is told in one "act," and after an intermission, the band does what it likens to "the DVD bonus feature," a narrated version of how Striking 12 came about—including "outtakes" (songs cut from earlier versions). It's obvious that GrooveLily is still experimenting with possibilities as it tries to develop an art form to fit what it is. Musically, GrooveLily is recognizable as the rock-oriented, contemporary edge of Broadway musicals. Show tunes influenced Milburn, who was a musical-theater major before he hooked up with his now wife, rock & roll electric violinist and singer Valerie Vigoda (who toured with the likes of Cyndi Lauper and Joe Jackson, according to the DVD history). Take those show tunes and add Vigoda's rock pull from the melodic end plus a firm jazz pull from the rhythm end (drummer Gene Lewin), and you'll see why GrooveLily is such a hybrid.

The DVD extra also tells, through a concert of narrative songs with explanatory intros, how the husband-wife team struggled to make a living at music while staying together as a couple. The standup comedy trope that allows band members to "play" versions of themselves gives drummer Lewin the chance to do a "drummers don't get no respect" routine that's pretty funny. Each of the musicians takes on a role akin to the emotional part he or she plays in the project—Valerie the cheery-without-a-cause surprise on your doorstep; Brendan, the guy spitting out sparkly ideas from his woe-is-me solitude, and Gene, the pragmatic, just-do-it or call-me-when-it's-done guy.

With Striking 12, GrooveLily has inched into the theater medium—sound effects, lighting, slide show, representational costuming (Chessa Nilsen, costume designer) and a set design that makes the band appear to be in some warehouse practice space (David Ledsinger, scenic design). It remains to be seen if this band can take full command of the theatrical form. For example, people going to see theater may be disappointed that Milburn and Lewin stay pretty much parked behind their instruments. Milburn, at least, with all his sequencing, could get away and interact with double-wired Vigoda. But it's a lot to ask, since all three musicians are quite busy making three pieces sound like a full orchestra.

From the first notes, the Striking 12 music draws you, like a soundtrack, into the mixed feelings of ponderousness and hope that characterize the holiday season. It's intricate in places, with tasty three-part harmonies, wistful echoes, tricky tempos and tempo shifts. Vigoda's voice dances (plus I think Lauper taught her how to peep). Vigoda's positive spin on the little match girl (co-written by Rachel Sheinkin), the couple's spoken thanks for allowing this project to help them spend the holidays together, the idea that TheatreWorks took this gamble on an evolving art form, all these are as inspiring as the GrooveLily music.
---
Striking 12, presented by TheatreWorks, plays Tuesday at 7:30pm, Wednesday-Friday at 8pm, Sunday at 8pm (plus 2pm shows Dec. 11 and 18) and Sunday at 2 and 7pm (no 7pm show Jan. 2) through Jan. 2 at the Lucie Stern Theatre, 1305 Middlefield Rd., Palo Alto. Tickets are $20-$50. (650.903.6000)
---
---
Send a letter to the editor about this story to letters@metronews.com.
---
[ Silicon Valley | Metroactive Home | Archives ]