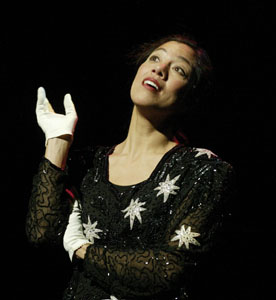 Photograph by Ken Howard

Plum Role: Sandra Tsing Loh recalls her childhood holidays in 'Sugar Plum Fairy.'

Sweet & Sour

Not all seasonal memories are fond ones in Sandra Tsing Loh's 'Sugar Plum Fairy'

By Marianne Messina

IN Sugar Plum Fairy, a one-woman play now running at the San Jose Repertory Theatre, writer/actress Sandra Tsing Loh draws you into the tunnel vision of a 12-year-old girl trying out for a part in The Nutcracker. Using slides, Loh's narration takes us through her parents' quirky, sometimes tacky ("lawn elves") suburban home. The ironies of Christmas in a Southern California suburb serve as the perfect metaphor for that age in which the adult world starts to fail the fantasies of childhood. In youthfully sneering commentary, Loh tells us that her Christmas consisted of "ratty palms" and glaring sunlight instead of the snow-covered "Hanoverian hamlet" of her imagined traditional Christmas.

Taking up the theme, the theater is decked with the perfect tacky Christmas trimmings (David Zinn on scenic design). White plastic reindeer leap from reams of gaudy, gold tree trim hung on the balconies. Sandra comes out dressed in green glitter hoop dress, red ornaments dangling from it like a fake Christmas tree (Zinn also did costume design). But as she strips away each outfit, the clothes beneath get progressively more sober and simple, and Loh's tinsel-town persona melts into adult Sandra, complaining that her sister, the No. 1 child, got all her mother's attention—in family photos "even the family cat gets better placement." And then adult Sara falls away, and we see her wearing the black dance leotard and skirt of a bubbly preteen. At this point, her "digression" about boys is one of the best.

About halfway through the play, Loh pulls back the proverbial camera to let in small glimpses of her family members as people with their own issues and trajectories, not just cardboard cutout irritants tossed in Loh's path. For example, Sandra sees her sister practicing basic ballet positions for hours and narrates it as obsessive, dumb repetition. When we learn that her sister is a star performer ("Below the neck she's a complete stranger") suffering competitive angst, we have to make mental adjustments. It's a great moment that feels like being 13 and discovering all over again that adults are people, too.

From here, the show promises growing complexity and maturing realizations as Loh jumps ahead 10 years. But instead it goes for the quick finish and lets Loh's family sink back into cardboardom. Aside from the Swiss-cheese ending (are we saving stuff for the sequel?), sacrificing depth gives brevity (read, no intermission and goodies)—that and a tight production team create a big splash. Signs come down on torn-out notebook paper to announce new routines. Working as a seamless team, Geoff Korf (lighting) and Stephen Le Grand (sound) set up sudden mood shifts as Loh jumps from one routine to another, from the ballet barre to the piano. Loh's visual humor interacts with the music (mostly from The Nutcracker) with a dancer's instinct, as when she imitates her Russian ballet teachers to pounding Slavic piano. Loh has plenty of good material here as she takes you from the smiles of wry irony to laughter ("My Big Stage Moment" where she is one of "12 pink heifers") to tears (oh, the "fat" routine!).
---
Sugar Plum Fairy, a San Jose Repertory Theatre production, plays Tuesday-Friday at 8pm, Saturday at 3 and 8pm and Sunday at 2 and 8pm (Dec. 19) and 7pm (Dec. 26) through Jan. 2 at the Rep, 101 Paseo de San Antonio, San Jose. There are no shows Dec. 24-25. Tickets are $16-$50. (408.367.7255)
---
---
Send a letter to the editor about this story to letters@metronews.com.
---
[ Silicon Valley | Metroactive Home | Archives ]