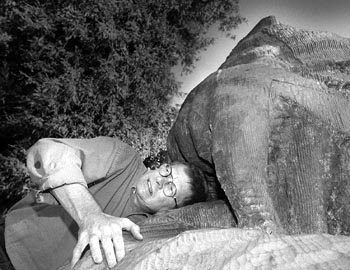 Cybercritic looks for the ludicrous in public art and architecture
By J. Douglas Allen-Taylor
SCROLLING THROUGH Eric Carlson's grand cybercyclic tour of San Jose is a bit different from looking at Web sites of the Redevelopment Agency or the Chamber of Commerce. True, Carlson takes you to the standard valley tourist attractions: the Quetzalcoatl statue, the San José Repertory Theatre, the Museum of Art and the McEnery Convention Center. It's just that his take on these sites is ... um ... slightly different than the official version.
He calls Quetzalcoatl the "[second] most repugnant overpriced trinket in the city" (next to the "Gumby-monster" in front of the San Jose Museum of Art), notes its placement next to a row of green Port-a-Potties, and speculates that it was designed while its sculptor, Robert Graham, was reading the sports page.
Of the ghastly front facade of the McEnery Center, Carlson writes in part: "The 125-foot abstract mural in porcelain tile was designed by Lin Utzon, a Danish artist. I am sure San Jose would have preferred using an American artist but, presently, no American artist is trained in large scale paint splotching or abstract random tile alignment."
Or of the San José Rep: "Gloriously askew. The shape is not unlike that of a huge barn run amok."
The site of Carlson's linked musings is Soft Underbelly of San Jose, an irreverent, unsupervised, noncommercialized site started on a whim two years ago by the 48-year-old Lockheed-Martin instructor. "It began, innocently enough, when I signed up online and got six megabytes of free Web space," Carlson says. "It was a typical home page, with family and so forth. But one of the pages I started was called 'Soft Underbelly.' I was intrigued by Quetzalcoatl. After a while, I started going out looking for other ludicrous aspects of San Jose. The forgotten aspects. Things that are not normally looked at with a tourist's eye."
Carlson certainly accomplished what he set out to do. Filled with local pictures taken with his Minolta and by Carlson's often-acidic commentary, Soft Underbelly features offbeat valley locations that are rarely advertised elsewhere: junkyard dogs in Alviso (critically compared to junkyard dogs on the Monterey Highway), the picture of the diving lady at the De Anza Hotel on West Santa Clara, a friend's 1991 Chevrolet Cavalier, and the eclectic neighborhood near the corner of Bascom and San Carlos (home of the Burbank pornographic theater, Babyland infants' store, the infamous Pink Poodle, a Vietnamese barbershop and the Fiesta Lanes bowling alley).
He is as critical of the architecture in the hinterlands as he is of the million-dollar downtown structures. Of the Tranny Man transmission shop on Monterey Highway, Carlson writes, "Austere minimalist transmission box. Note paintings of transmissions on front corners of buildings. Uncompromisingly nothing more than a building. Expecting something else from a transmission shop?"
Carlson says that he has no political or social agenda to promote on his site. "I've steered away from social commentary. I don't want to be judgmental." Carlson, who moved to San Jose in 1986 after many years in the Navy, sees the site as a way to get to know the city and the valley. "The joy for me is the unexpected. I never know what I'm looking for."
How do some of his targets react to his commentary, such as Redevelopment director Frank Taylor?
"I'm not really an enemy of Frank Taylor," he says. "He probably doesn't care what I write." Where he differs with development-minded types like Taylor is that he "would err on the side of preserving many of these old buildings, which represent our history and heritage." But sometimes Taylor does the right thing, "like preserving that diving lady at the DeAnza. Life is not always black and white." He says that his email is 99 percent positive. "I seem to have a loyal, but small, following."
Does he see any good architectural trends in San Jose? Yes, he says, and points to the new Tech Museum. "I like the wild and crazy mango color scheme," he says.
Has he ever considered making his decidedly low-tech, quick-loading, no-applet Web page a commercial site?
"Oh, I've had a couple of offers," he says. "But I'm not planning on it right now. I mean, I don't have any great moral stance against advertising. I'm not saying I won't ever do it if I get short of money." Still, he seemed reluctant about the prospect of surrendering his artistic independence. "I guess it might go down easier if the advertiser was funky enough," he admits. "Somebody like Metro."
Right now, he's packing up his Minolta and setting his sights on a new neighborhood target. "Willow Glen," he says. "There's a lot of good stuff there."
---
Eric Carlson's site can be found at www.sjunderbelly.com
---
[ San Jose | Metroactive Central | Archives ]