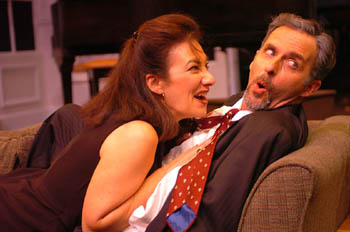 Photograph by David Allen

Sofa, So Good: Suzanne Grodner puts a move on Jackson Davis in 'The Fourth Wall.'

Behind the Wall

Theatreworks has fun with stage conventions in A.R. Gurney's 'The Fourth Wall'

By Marianne Messina

THE FOURTH WALL. It's that invisible barrier between actor and audience conceptually raised in the 18th century--and which has, in recent years, become a tempting target for deconstruction. A.R. Gurney makes that wall a topic of discussion (and obsession) among the characters in his play The Fourth Wall, and Theatreworks is currently giving Gurney's latest update of the play, now taking some satirical shots at the Bush administration, its West Coast premiere.

The play opens on a familiar domestic setting, but immediately, Roger (Jackson Davis) is complaining to urbane Julia (Suzanne Grodner) about how his wife has lined all the furniture up facing a blank wall. Although the audience has already accepted this setup on convention, the characters continue to analyze the wall, along with Roger's wife, Peggy (Kimberly King), as if it were a dysfunctional entity.

From there, Julia notices, "We've been talking in a stagy sort of way," and the characters increasingly refer to their lives as a theatrical performance. They also begin to speak of convention (both theatrical and social) as a confining box: "That's this room again; it makes everything seemed contrived." It's also an able vehicle--with its Cole Porter song-and-dance numbers and its references to every theatrical convention since Euripides--for wondering how to create vital theater that can connect through a social environment of distancing walls.

But after 85 minutes of talk about breaking though the wall and connecting with the people on the other side, one would expect a very intimate finale. Without spoiling the ending, Theatreworks director Jules Aaron could have drawn out those precious few end moments and given us more substantial audience contact (King's Peggy was slightly more accommodating in this respect than Davis' Roger).

Overall, Theatreworks' polished timing, precisely choreographed bits and up-tempo pacing squeeze maximum humor out of Gurney's borderline didacticism. Only this smoothest of stage business manages to edge Peggy's soapbox, as her new-found political activism streams out in long liberal rants against the Bush agenda, safely into the realm of parody. The hardy laughs come from the characters' interaction with stage clichés: they strike stock poses followed abruptly by "Where'd that come from?" expressions. They discuss the awful taste of the "stage champagne," disclosing that it's ginger ale. They look in wonder, as sound designer Cliff Caruthers nails the humor with his conspicuous or hyperbolic sound effects. For example, Roger goes to pop a bottle of champagne, and a stentorian pop hails from across the room. Slamming doors resound, the piano plays itself and when Julia goes seductress animal on Roger and rips open his shirt--well, she might as well be ripping open a carton with a box cutter. In terms of acting, probably the most irresistible work came from Grodner in her black power suit, slit skirt and touch of cleavage. Her Julia was the quintessential, upscale I-Love-New-Yorker, right down to her balletic hand gestures and elegantly manicured nails (nice attention to detail by costume designer Lonie Fullerton). King made the dressed-down, accessible housewife Peggy fairly lovable, though her harangues seemed to leave her perpetually winded. Danny Scheie, as the voice of academia, gave the character of professor Lesser a multiple personality ranging from academic drill sergeant to lisping gay boy. If you could shave off Scheie's few shrill moments and use them to light a fire under Davis' blander moments as Roger, the ensemble could just possibly have perfect pitch.
---
The Fourth Wall, a TheatreWorks production, plays Tuesday (Dec. 16), Wednesday (Dec. 17) at 7:30pm, Thursday-Friday at 8pm, Saturday at 3 and 8pm and Sunday at 2 and 7pm through Dec. 28 at the Lucie Stern Theatre, 1305 Middlefield Rd., Palo Alto. Tickets are $20-$36. (650.903.6000)
---
---
Send a letter to the editor about this story to letters@metronews.com.
---
[ Silicon Valley | Metroactive Home | Archives ]