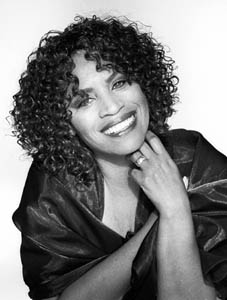 Call Me Dee Nice: Clairdee's range stretches from Cole Porter and Gershwin to Stevie Wonder and Maxwell.

Piece of Peace

Acclaimed jazz singer Clairdee puts listeners in the holiday mood with 'This Christmas'

By Yoshi Kato

IT WAS like a scene from a holiday movie or a Peanuts special. Clean-toned vocalist Clairdee performed at a Christmas Eve gig last year at Yoshi's, and she wondered if one of the busiest travel and last-minute shopping days of the year would translate to foot traffic through the venerable jazz venue in Oakland's Jack London Square.

"I expected a few people to show up--my family and everybody in the band's family," says Clairdee, by phone from her home in San Francisco. "And what happened was you couldn't get in the door. Both shows were totally sold-out."

To reward those who wanted the company of jazz instead of eggnog, Clairdee pulled together a set of her favorite holiday songs that haven't been played ad nauseam with songs that thematically matched the mood. The evening of jazz, funk and R&B went over like a PlayStation 2 under the tree.

"We found out that a lot of people do want to do something fun on Christmas Eve," she says. "It was just so much fun. I almost can't even remember the evening, because I was on such a high just watching the audience."

Confounding expectations and performing in an extended family setting is nothing new for the Boulder, Colo., native. One of eight children, she grew up in a household where her mother played piano and sang in a choir. Clairdee learned violin, viola and piano. "We were involved in school programs, and we made up our own," she adds. "You couldn't come to our house without being entertained. There was a show after every dinner."

The shows weren't just off the cuff, either. Just as she has carefully planned this year's Christmas shows--Sunday night at Stanford and Christmas Eve again at Yoshi's--so, too, did she and her siblings work on their revues.

"Down in the basement, my brother set up lighting and a sound system. So when we put on a show, we already knew what you were going to do when the audience showed up--costumes and the whole thing," she says.

This year's Christmas shows will draw material from her holiday album, This Christmas. With her on the bandstand will be pianist-keyboardist/musical collaborators Ken French and Jon Herbst, vocalist Nicolas Bearde, bassist Ron Belcher, drummer Deszon Claibornem, flugelhornist-harmonica player Glenn Appell and tenor and alto saxophonist Charles McNeal. The little big-band format is made for boisterous celebration, and that's exactly what Clairdee has in mind.

"It's unlike most of the music that a lot of my listeners have heard in the past few years, which is usually just me in a trio," she notes. "I wanted to do something different to show that, 'Wait a minute! I haven't always sung jazz!' I've been a blues singer. I've done R&B and funk, and I've done some gospel. And a lot of these songs, a lot of arrangements, required a bigger sound.

"We also thought that once we get onstage, it would be more fun for the audience," she says. "It's not just a concert. It's a place where people could dance--and probably will. But I wanted to make it happy, and have those extra horns and two pianos [and] really make it work."

Not that she always needs to take advantage of all those instruments. Take her arrangement of a Christmas classic, "Let it Snow."

"I've always loved the song 'Let It Snow.' And to me, it just meant kicking back and 'let it go!' What better way to describe the feeling of that song than just harmonica and guitar."

While the Stanford show has Christmas in its title, Clairdee's aim is to be as inclusive as possible. "We're not too heavy on the religious side, because we want everybody who comes to have a good time," she says. "But we do try to capture the songs that we know reflect the season and even songs that maybe weren't necessarily written for the holidays--such as Horace Silver's 'Peace'--but fit in with the theme."
---
Clairdee performs Sunday (Dec. 14) at 7:30pm at Campbell Recital Hall on the Stanford University campus. Tickets are $20/$18 seniors/$5 Stanford students. (650.564.6886)
---
---
Send a letter to the editor about this story to letters@metronews.com.
---
[ Silicon Valley | Metroactive Home | Archives ]