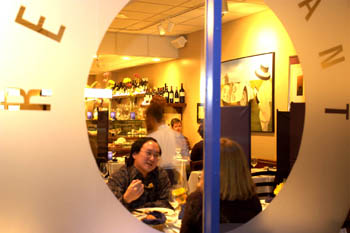 Photograph by Charlie Nucci

O Behave: A menu of creative tasting-size portions encourages flirting with new culinary combinations.

The Story of O

A name change and image sophistication allow chef Justin Perez to expand his sensuous domain

By Christina Waters

RESTAURANT O has emerged from the cave--that is, from its former incarnation as Buca, which means cave or basement in Italian--and the reinvention bodes well for fans of the tasting menu. The new name spotlights chef Justin Perez's innovative world-fusion-goes-to-Italy offerings.

Tastings begin with O's wine list. Specializing in the wines of the Santa Cruz Mountains appellation--by the 3-ounce taste, the glass or the bottle--O's wine list plunges deep into more than four dozen wineries. To match, the chef breaks up his fresh new menu into tasting-size portions--nothing over $15--that move from inventive starters and sexy individual pizzas to voluptuous salads and side dishes, and on to gorgeous entrees that forecast the dazzling range of the kitchen. Sauces that would honor any three-star French restaurant grace sea scallops, filet mignon and game hen, while the dessert list is elegant enough to be barely legal.

The tasting idea allowed us to sample three red wines and still drive safely home. An opulent, untamed Primitivo 2000 from Salamandre ($9) and a glass of huge, velvety Ridge Zinfandel Sonoma Station 2001 ($8) started us off, along with some of the tenderest foccacia imaginable. One small suggestion; while the amuse bouche of salmon mousse was lovely, those small complimentary glasses of sweet bubbling wine, holdovers from the Buca days, invariably dull the appetizer. Given the skill of the kitchen, they are unnecessary. Luckily the charming, fresh Euro-bistro interior--lots of linens, small tables, splashes of colorful liqueur posters and an exhibition kitchen--remains intact.

Jack's opening dish of marinated ahi carpaccio ($12) was the finest of its kind we've encountered, and we've sampled dozens of versions of this starter. Here the ahi had been seared for a nanosecond, sliced and laid on a plate encircled with cucumber slices, each bearing a unique caviar, and one topped with caramelized onions. Sprigs of pungent daikon sprouts were tossed here and there. It was beautiful and delicious.

My salad of arugula was joined by fresh figs and crimson gems of pomegranate ($8). Since the truffle vinaigrette on the menu was unavailable, the kitchen comped the salad and later brought me an order of intensely flavored sautéed arugula in garlic and cherry tomatoes ($5). The soft greens made the perfect accompaniment for my main dish--again the portions are graceful, even nouvelle, as opposed to heartland gargantua.

While cinnamon quail with pomegranate tamarind reduction ($9) and elk chop with blueberry chocolate reduction ($15) might sound baroque, each dish was a star, sumptuously combining visual appeal with intricate--and very successful--saucings. Presented rare and drizzled with the intriguing mole-style sauce, the elk chop was both tender and flavorful as venison. Jack's side dish of roasted cauliflower was utterly delicious, an entire head of tender cauliflower that had been roasted with a light dusting of crunchy sea salt. It was addictive, and I ate more than my share along with my beautiful plate of haunting tamarind/pomegranate sauce napped over a perfect roast quail. Applied with the lightest possible touch, the perfume of cinnamon infused this wonderful creation. Nice, too, was a tasting pour of Thomas Fogarty Pinot Noir, Estate, '99 ($5).

Dessert brought a memorable meal of exquisite, modestly sized dishes to a close--full circle, like an "O." Restaurant O offers genuine dessert seduction far from the usual crowd-pleasing standards. We bypassed (sigh) Meyers rum cake with raisin crème anglaise, and honey semifreddo to share an order of hazelnut financier cake with port-poached pears, mascarpone and citrus anglaise ($7). It was the dessert of the season. Not assembled, each element occupied its own place on the plate. A circle of light, rich mascarpone. An autumn fan of pear. A small, round cake infused with ground hazelnuts. Citrus cream to moisten each bite. Oh!
---
Restaurant O
Address: 2081 S. Winchester Blvd., Campbell
Phone: 408.871.3135
Hours: Dinner from 5:30pm Tue-Sat
Cuisine: New American fusion
Price Range: Moderate
---
---
Send a letter to the editor about this story to letters@metronews.com.
---
[ Silicon Valley | Metroactive Home | Archives ]