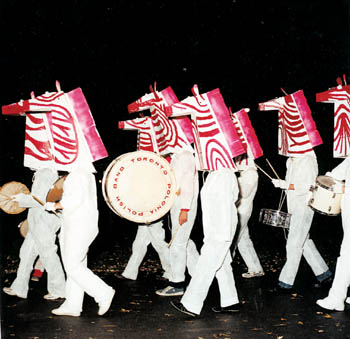 The Stripes of March: Haunted by a vision of 9-foot zebras marching through the performance space, Burke ponied up for 3-D paper sculptures.

Imperfect Cool

Tyler Clark Burke and the Perpetual Motion Roadshow take DIY creativity to the next dimension

By Traci Vogel

TYLER CLARK Burke is the reigning queen of things indie and underground in Toronto, according to that city's alternative newspaper, Eye Weekly. The twentysomething visual artist, photographer and record-label founder must be getting positively bored with over-the-top labels, since she's billed on Jim Monroe's Perpetual Motion Roadshow tour (coming to San Jose on Dec. 12) as no less than a "3-D Drawing Diva."

"Actually," she says on the line from Toronto, "'3-D Drawing Diva' is a pretty new designation for me." When Jim Monroe, the No Media Kings publisher who has been running his Perpetual Motion Roadshow tour since April of last year, asked Burke to join him on this West Coast leg, it was out of a desire to add visual art to a bill comprised of Monroe, who reads from his "foul-mouthed pulp novels," and "hard-core" journalist Todd Taylor from L.A.

It occurred to Burke that presenting work on a stage allowed for use of three-dimensional space. "I started thinking about what this could mean," she says. "Around the same time, I had an art opening on Halloween for a series of drawings in pencil crayon and neon spray paint. The images were mostly of zebras, meercats and floating faces."

Burke became haunted by a vision of nine 9-foot zebras marching through the performance space. She says she "wanted the drawings to come to life." To do so, she had to come up with a narrative to motivate them. These narratives take the form of handmade books, each of which plays with the notion of 3-D and is displayed on the tour. "Some stories will require 3-D glasses," Burke says. "Others will have pop-up art; others might be 2-D pictures of dioramas. One story is about a piece of paper obsessed with change, about becoming more dynamic."

The piece of paper tells its own story: "I woke up one day feeling rather flat. This wasn't altogether unusual; I'd been a piece of paper for years, though it had never bothered me before. I realized I needed a change. I'd heard good things about origami, and I wanted to give it a try."

"Ultimately," Burke says, "the paper becomes so obsessed with glory and immortality that it turns to plastic and nobody can see it anymore."

Burke, who has also worked in set design for her record-label artwork, says she's interested in "evocative work, whether it makes you smile or makes you scared. I don't like things that match the furniture or the perfectly shaded apple." This interest in evocative imperfection may explain how Burke came to take one of the most widely admired hipster photos in recent memory: the crotch shot that graces the album cover for bad-girl pop rapper Peaches. After all, Peaches is known for many things--but neatness, particularly in the bikini zone, is not one of them.

Music and its stylistic implications swirl through much of Burke's work. Recently, she started a modern R&B and indie-rock dance night in Toronto called "Santa Cruz." Aimed toward enabling hooking up, the club night featured slow jams, dance cards and name tags (with corresponding mailboxes for note passing).

"The word 'Cruz' is definitely a play on 'cruise,'" Burke explains, "and, hell, Santa Cruz is hot--or hotter than Canada. Perhaps it's a dramatic example of romantic xenophilia--like it's more fun in California--but it seemed to work. The turnout was really bananas. Over 600 people showed up for a club with a capacity of 250."

If Tyler Clark Burke's magnetism and inventiveness are any indication, the Perpetual Motion Roadshow tour's stop in San Jose deserves to be so lucky.
---
The Perpetual Motion Roadshow Tour arrives Friday (Dec. 12) at 8pm at Gallery AD, 150 S. Montgomery St., San Jose. (408.271.5151)
---
---
Send a letter to the editor about this story to letters@metronews.com.
---
[ Silicon Valley | Metroactive Home | Archives ]