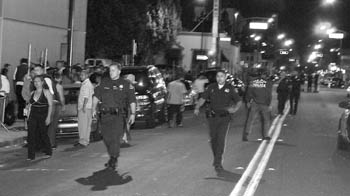 Photograph by Raymond R. Rodriguez Jr.

Thick Blue Line: San Jose police officers quickly cleared the SoFA district the night of the stabbing. (File photo)

Night Moves

A widow grieves, a murderer runs free and the beat goes on

By Jim Harrington and Todd Inoue

ONE WEEK after a fatal stabbing rocked the SoFA nightclub area, and six days after victim Raul Curiel's funeral service was held at Oak Hill Memorial Park, patrons were back at Zoë Nightclub acting like they would on any given Saturday night. People were shooting pool, drinking shots and mingling. The dance floor was packed as the DJ spun tracks by Beyoncé and Dr. Dre. Many people knew of the Nov. 30 early-morning stabbing, but nobody seemed worried about the likelihood of a repeat incident.

People interviewed at the club said that they felt secure and safe once they got through the front door. They believe that what happened was an aberration--a tragic situation that could have happened anywhere.

Jeanene Juarez of San Jose, Carmen Matos of Salinas and Jose Velez of Milpitas were all celebrating birthdays with their family and friends at the club last Saturday. It made for an odd juxtaposition: a birthday cake with glowing candles sitting on a table just a few feet away from where a crime had occurred a week before. Juarez explained that Zoë had become part of her family's tradition. "We always share our birthday parties here," she said.

Although the nearby dance floor was jammed with gyrating bodies, Juarez and her group had plenty of room to eat cake at one of the club's inside tables. "It's usually a lot more packed," she said. "But I think [the smaller crowd is caused] mainly because of the weather tonight."

It didn't take long for Zoë to become an important part of the downtown scene. Opened last spring, the chic nightspot quickly found a regular clientele who enjoy playing pool in the open-air Back Bar patio and boogying to DJ music. The crowd is attractive, young, energetic and well-dressed. A beer company could shoot a commercial there and not have to hire models as extras. However, as late Saturday night fell into early Sunday morning Nov. 30, the usually festive and photogenic environment was transformed into something more appropriate for CSI: Miami.

The Light

Raul Curiel met his wife-to-be, Jeannie, at Great America in 1976. They married in 1982 and settled in Willow Glen. Curiel worked landscaping jobs and loved the Oakland Raiders and fishing. According to his wife, Curiel was a light in many people's lives. "He was a wonderful man," says Jeannie. "He was the life of the party."

On Nov. 30, the Curiels and a family friend enjoyed an evening out at Zoë Nightclub ("We hadn't been out in a year," Jeannie says). Reports vary as to exactly what happened, but the most consistent story is that Raul was trying to protect the honor of his wife, who had been groped by another patron. An altercation ensued, and Curiel was stabbed. He was later pronounced dead at Santa Clara Medical Center. The murderer made his way to the club's exit and escaped clean into the night. Police have "no suspects and no good leads at present time."

"We are trying to identify the killer," said Sgt. Steve Dixon, San Jose Police Department press information officer. "Somebody has to know who this person was or who these people were who were involved in the fight."

Police were making their regular patrol of the area when they noticed a disturbance outside the club. Bouncers were attempting to clear the house, and "somebody yelled that there was a stabbing victim in the club," according to Sgt. Dixon.

Reports vary on the size of the actual altercation, but Dixon says that witnesses described it as a "very large fight." Asked whether rumors were true that a second patron was stabbed in the melee but survived, SJPD issued a "no comment."

"[Police officers] were drawn to this commotion outside the club," Sgt. Dixon explains. "It went from what we call a disturbance call to a stabbing call to a homicide."

What happened to Curiel after the stabbing is also open to question. Some said that Curiel collapsed outside, but Dixon says police found him on the floor inside the club. He was severely wounded in the lower torso area and was not responding to attempts to revive him. Following the murder, police completely swarmed the South First Street entertainment district, shutting down the street.

"It was a ton of cops," says Armann Qudir, who works as the marketing director for spy, the club located across the street from Zoë.

What happened to the murderer? Eyewitnesses have been hard to come by. "Although there was a large crowd, many of the people fled before we got there," Sgt. Dixon said.

The only description of the killer that the police have at this point is a Hispanic male adult likely in his mid-20s.

Security Issues

For 15 years, before transforming into Zoë, the building housed the Cactus Club, a beloved hole-in-the-wall venue for live music that served as training ground for just about every local rock, pop, ska and punk act of the '90s. The club also regularly featured minor touring acts--some of which, including Pearl Jam and Blink 182, wouldn't stay minor for long. Zoë attracts a far different crowd. Gone are the black rock T-shirts, jeans with holes in their knees and Converse high tops, replaced with cashmere sweaters, wool slacks and $200 dress shoes. It's a decidedly more up-market, ethnically mixed crowd.

"As far as this place goes, I feel safer now then I did when this was the Cactus Club. That place was a dump," said one downtown San Jose resident who would only identify herself as Robin. "The security [at Zoë] is very tight, and they take it very seriously."

Zoë Nightclub owner Jacek Rosicki, who wasn't at the club when the incident occurred, has been quoted as saying that there are no plans to increase security presence since the tragedy. "We have very good security. But we definitely need to take additional precautions," he said.

Those additional precautions he said may include better screening of the patrons and possibly the use of security cameras.

Rosicki is in a no-win position. If he says he plans to increase security that insinuates that there wasn't enough security on the night of the murder. And if he says he is not going to beef up security, then he sounds cold and uncaring. Suffice it to say that security has been a major focus of all the clubs Rosicki has operated over the years--from the Edge in Palo Alto (in which he no longer has a financial interest) to the nearby Agenda. It's hard to move more than a few feet at one of his clubs without seeing some muscle-bound security guard eyeing the crowd.

Whether or not Rosicki decides to make any formal changes to security at Zoë, some patrons immediately noticed added precautionary measures coming into the club on Saturday. "Now they are starting to frisk people," said Doug Shephard, a 29-year-old San Francisco resident who estimates that he has been to Zoë roughly five times.

Although birthday girl Jeanene Juarez had heard about the slaying, she said she felt no hesitation about returning to the club on this rainy evening. "I thought of it this way: statistically, what's the likelihood that it's going to happen on the following weekend?" she said.

Juarez is right. According to police, the likelihood of a repeat incident happening inside a downtown San Jose nightspot is very, very small.

"This is the first homicide that we've had at a club in a long time," said Sgt. Dixon, who referenced the shooting at Club Extreme on Dec. 22, 2000, as the last club killing.

Details of the Nov. 30 event are iffy at best, at the present time. "I don't know exactly what happened. I know as much as you do," Rosicki said. "All I can tell you is that I feel really sorry for the family of Mr. Curiel. It's a very sad tragedy. I wish it had never happened anywhere."

"People, when they go to any public place, even at home, they need to be aware of their surroundings," Rosicki said.

There's always an added danger at a place where a large crowd is gathered. "When you have large crowds, when someone bumps into someone, you get fights," said Sgt. Dixon. "It's a safe area, but if there is a fight inside a large club someone can pull out a knife and something like this can happen.

"We will solve this. We will get some information somewhere. Someone will come forward. Sometimes it just takes time," Sgt. Dixon says. "There is no statute of limitations on murder, so we will get this solved."

Until then, people will continue to frequent nightspots in the South First Street Area. And why shouldn't they? "I live downtown, on First, and I've never had any problems at any clubs," Robin said.

But that doesn't mean that club owners can't take steps to make the area safer for those who journey downtown to frolic. That means being more vigilant on knowing what events and promoters attract rowdier crowds.

"What you are offering to the public is what decides who comes [downtown]," spy's Qudir said. "You bring a certain type of promoter and that brings a certain kind of crowd. We are bringing a certain crowd. Our crowds are very dressy. We never have any problems--no fights at all. It's the acts we bring, the promoters we have. When you make people feel good, they are going to act good."

Juarez believes this tragic incident probably won't have much of an effect on the economy or the climate of the South First Street Area in the long run. "The people who frequent here are going to come here anyway," Juarez said.

Meanwhile, back in Willow Glen, the holidays are much darker for one family. "Everything is really hard," says Jeannie. "I'm grieving. It was awful to see your husband die right in front of you. There are a lot of loose ends. I try to get answers, but I'm totally lost. We went there to have fun; we didn't know these guys. It was a bad night. I just pray that they find the person."
---
Anyone with information on the Raul Curiel case should contact Det. Will Manion or Det. Enrique Garcia of the SJPD Homicide Division at 408.277.5283. Anonymous tips can be left at Crimestoppers: 408.947.STOP.
---
---
Send a letter to the editor about this story to letters@metronews.com.
---
[ Silicon Valley | Metroactive Home | Archives ]