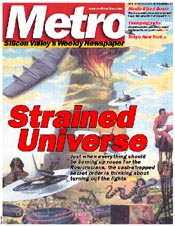 For the Week of
Dec. 11-17
Cover: Rosicrucian Red
The Rosicrucian Order, the granddaddy of metaphysical science and secret religious tenets, should be flying high in the New Age. But instead they're sitting cross-legged on the floor. What happened and why these ordinary folks don't mind.
News: Capital Crimes
As the Unabomber trial struggles to take its first breath, Marc Herman reports, the media encampment busies itself with minutiae that make the Manifesto seem almost sane.
Fine-Feathered Fiends: The hills are alive with peacocks--gorgeous, exotic and extremely annoying. Where did they come from and, more important, where do they go when we can't take it anymore?
Public Eye: Former mayor shelves bid to reclaim his old office.



Presents of Mind: Metroactive's annual holiday guide cuts to the heart of the season of giving. Plus, clutter-free gifts.



Thumping Their Tubs: Chumbawamba and Moby both put their messages before their music.
Spinning The Beatles: Jazz vocalist Ann Dyer puts a new spin on Revolver.
Beat Street: Concert gets better, etiquette gets worse at annual KOME concert.



The Meal Deal: No question--Palo Alto's Pasta? serves up affordable, al dente dishes.
Bargain Bites: Budget-saving suggestions for the cooks on your holiday gift list.



Big Chap Mutating: From Alien to Resurrection, the protean menace worms its way deep into our subconscious and traces an arc of our history.
Elephant at Prayer: Telling moments salvage ponderous Amistad.
Taking a Chance: Babak Sarrafan gives voice to a generation of Iranian-Americans in Sting of Chance.



Mouse House: San Jose Cleveland Ballet builds a better Nutcracker--review by Philip Collins.
Nothing but The Troupe: A beleaguered stage company rises to the occasion in Moon Over Buffalo.



Return to Gender: Female artists manipulate the new media at Art-Tech.



Please don't forget to write! Metro welcomes letters. Like any great work of art, they should be originals -- not copies of letters sent elsewhere. Include address and daytime phone (for verification purposes only). Letters may be edited for length and clarity or to correct factual inaccuracies known to us. Postal: Metro Letters, 550 S. First. St., San Jose, CA 95111. Fax: 408/298-0602. . Emailers, please include name, city of residence and phone number. Letters printed will list email address unless otherwise specified. Letters to the editor are not currently published in the online version of this paper.