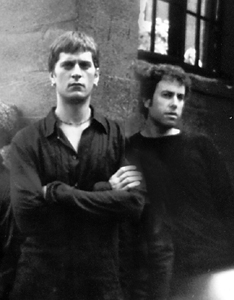 Match x 2

Mix 'N' Matchbox

Mix 106.5 brought members of matchbox twenty to Plant 51

By Sarah Quelland

LAST MONDAY (Dec. 9), MIX 106.5 presented a special invite-only appearance by matchbox twenty's Rob Thomas and Adam Gaynor at Plant 51. Part of the station's Mix Spotlight series, this intimate afternoon engagement hosted by DJ King Raffi served as a listener-appreciation party. The low-key event started at noon and found fans casually chatting over pizza and drinks while waiting for the guests of honor to arrive. Around 1:30pm, after a reported emergency run to the nearest 7-Eleven for Slurpees, Thomas and Gaynor entered the club quietly through a side door. When everything was in place, they took the stage to answer questions and perform an acoustic two-song set of "Disease" and "3am."

The short set may not have been exactly what fans were expecting. In fact, its brevity was rather disappointing. But the Mix 106.5 audience did get a good glimpse at the less-than-serious side of the band. The likable Gaynor made wisecracks throughout his time onstage, and a giddy Thomas goofed around on his guitar, making up lyrics as he went along. After their set, the two made time to take pictures and sign autographs for their fans.

For folks who missed this Mix Spotlight, there are more on the way. Celestial duo Frou Frou (featuring Imogen Heap and Guy Sigsworth) returns to the South Bay with a show at Agenda Thursday (Dec. 12). In even bigger news, Tori Amos gives a special morning performance at Agenda next Saturday (Dec. 21). Visit www.kezr.com and listen to Mix 106.5 to win.

LOFTY EXPECTATIONS: Disappointed fans who missed Disturbed's early performance at the Cow Palace with Korn last month can rejoice. The Boston-based band returns to the Bay Area for LIVE 105's annual Not So Silent Night concert, which descends on the HP Pavilion Friday (Dec. 13). The lineup includes homegrown bands the Donnas and Papa Roach, plus Good Charlotte, Jurassic 5, Moby, DJ Shadow and a return appearance by Sum 41 (who played last year's holiday blowout and replaces the White Stripes this year). Winners of LIVE 105's Local Loft contest, Bay Area bands Solemite and Silent Film Stars, also perform.

OVER AND OUT: After announcing that it was taking a break, Keeping Ellis has decided to call it quits for unspecified reasons. On the heels of the breakup comes the resurrection of Maida (visit www.killmaida.cjb.net) and progress on new project Obsessionist (which also features former Lords of the Manor drummer Matthew Ryan and bassist Dan Hellevig). Likewise, Element of Surprise (known as E:OS to fans) has disbanded. The group issued a press release stating, "We all put everything we have into our music, and it was becoming very obvious to us that there were differing paths that each person wanted to pursue. We all feel like we started something new and different, and that it finally ran its course." Copies of the band's U:pside Down CD will be available while supplies last. Visit www.eosband.com. ... In other band news, female-fronted alt-pop band emaneht is looking for a new guitarist. Interested players can visit www.emaneht.com and email [email protected].

WEDNESDAY NIGHT LIVE: Every Wednesday, 9-10pm, KZSU-FM (90.1) dedicates an hour to local bands. Hosted by the Big Chief, the show's upcoming guests include Angry for Life (Dec. 11), Whiskey Sunday (Dec. 18), Ice Cream Men (Dec. 25), Secret Janet (Jan. 1) and Fifteen Degrees Below Zero (Jan. 8). Bands can send packages to W.N.L., attention the Big Chief, P.O. Box 20510, Stanford 94309 and visit www.kzsu.org for more info.

PLAN AHEAD: Echoes and Cynyc, Dec. 12 at Plant 51; Los Olvidados, the Cliftons and the Last Call, Dec. 13 at Plant 51; Dub FX, Dec. 13 at Kleidon's Lounge; the Ataris, Sugarcult and Rufio, Dec. 13 at Slim's in San Francisco; SECURITY, Forcing Bloom, Myzar and Border Wars, Dec. 14 at Kleidon's; Nerf Herder, Ultimate Fakebook, Fairview and the Rap$callionz, Dec. 14 at the Gallery; Time Spent Driving, Counterfit, Stereotyprider, Moonlife and Joy's Panic, Dec. 14 at the Mitchell Park Center in Palo Alto; Jaguares, Dec. 14 at the Flint Center; Def Leppard, Dec. 14 at the Bill Graham Civic Auditorium in San Francisco; Drunken Starfighter, Dec. 16 at Kleidon's; Mudvayne, Taproot and Depswa, Dec. 18 at the Fillmore in San Francisco.
---
Send a letter to the editor about this story to letters@metronews.com.
---
[ Silicon Valley | Metroactive Home | Archives ]