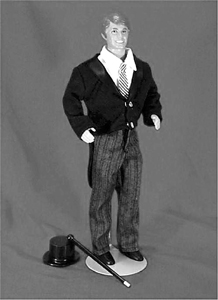 Buy Me! At a bachelor auction for a good cause, Biter is forced into soul-searching.

Bachelor of Hearts

By
---
It is only in adventure that some people succeed in knowing themselves, in finding themselves.
--André Gide
---
MISTRESS OF Ceremonies Lisa Slade walked up to the microphone and yelled, "All right ladies, let me hear you say, 'I NEED A MAAAAAAAAN!'" and the bachelor auction commenced. Auctioning off dates with 22 single men may seem an unintuitive way to raise money for Sudden Infant Death Syndrome, but when a close friend recently lost her newborn, the need to do something led Slade here, to a makeshift stage at the King's Head Pub on Nov. 20.
The widest variety of bachelors took part: young and old, rich and poor, handsome and not so handsome. "Ladies know that the kind of guys who stand up for bachelor auctions are good guys," said Slade afterward. "And even if the ladies aren't looking for romance, they could be just looking for someone to go to the Christmas party with, or some social event where it's just nice to have someone else go along."
Not that Biter enjoys being auctioned off like a slab of prime cornfed beef, it's just that we had to feed our insatiable thirst for curiosity and we couldn't pass this one up. Yes, Biter entered the bachelor auction. Don't get us wrong--we've never been fans of the singles pickup scene, we've always hated dancing, and classic-rock cover bands make us puke--but we've always loved the King's Head Pub, and the whole event promised to be a marvelous adventure. Plus we were in the mood for some soul-searching, and it was a chance to explore one of the many inner selves we hadn't explored in a while.
Here's the process: A bachelor hops onstage, and emcee Bruce Lee (not that Bruce Lee) tells prospective women the bachelor's age, his hobbies and his profession (if he has one, that is). Then the bachelor is asked what his ideal romantic date would be. Answers that night included, "A carriage ride through the park in the snow," "A champagne lunch on my yacht," and "I'll cook you a warm meal and give you a back massage." Then the bidding begins. Local auctioneer Mike Vendetti jumps on the mike, and ladies vie for a free dinner for two with the bachelor. At first, the bidders seemed a little reluctant. "One told me she was too shy to bid," Slade explained, "but then afterward, she said, 'I'm bringing all my friends next time!'"
While onstage during the bidding, some bachelors faked like they were going to strip, and some just grinned nervously. Instead of engaging in Neanderthal behavior--like the one guy whose pelvic gyrations with the microphone stand were surpassed only by the fake wails from the ladies--Biter opted for a tranquil Zen-like approach: we just stood there onstage and did nothing. And we even planted two females in the audience to jack up the bidding, a prank which totally failed, as they were both non-native English speakers who had never experienced a live auction of any kind, so they didn't know how to bid, and they couldn't understand what the fast-wailing Vendetti was saying. C'est la vie.
Standing on the stage while ladies bid on you (or don't) can be quite a humbling experience, especially if you're the type who has no idea what you want in life. It'll make you reconsider, in Zen-like fashion, all sorts of things.
Biter's winning bid--only 60 bucks, nowhere near as much as "Nathan" ($245) or "Kevin" ($275)--came from a woman who only bid because our ideal romantic date would include, among things, a walk through a Japanese garden in the pouring rain. "I looooove that idea," she said while writing out a check to the Sudden Infant Death Syndrome Alliance. Due to busy schedules, the date hasn't happened yet, but our gift certificate for the Elephant Bar in Campbell waits in anticipation.
"We were delighted about the whole event," said Slade afterward. "It was something different, it was fun and the atmosphere was excellent. It was a perfect way to make money for charity. And you never know, there might be some romance coming out of it."
After all was said and done, $3,400 was raised for the Sudden Infant Death Syndrome Alliance. Slade's next bachelor auction takes place at the King's Head in late January.
---
Send a letter to the editor about this story to letters@metronews.com.
---
[ Silicon Valley | Metroactive Home | Archives ]