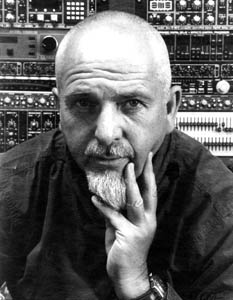 Photograph by Arnold Newman

Pete Rock: Gabriel uses both sides of his brain to make soundtracks.

He Likes to Score

Peter Gabriel's recent soundtrack work just might overshadow his latest album, 'Up'

By Spence D.

PETER GABRIEL is a quintessential iconoclast in the realm of popular music. From his earliest days as the flamboyant frontman for Genesis, when he literally defined the parameters of art/prog rock, to his critically acclaimed solo career, Gabriel has charted his own distinct path through the pop maelstrom. While his solo efforts have garnered him the most success, and his Real World record label has helped bring diverse world music into the popular consciousness, Gabriel's work on film scores and soundtracks often gets sidestepped.

The original songs he has composed for such diverse films as Gremlins, Against All Odds, Philadelphia, Strange Days and Hard to Hold are overlooked gems in his sonic canon. Yet in terms of entire film scores, Gabriel has only composed three to date: Birdy, 1985; Passion (the score for The Last Temptation of Christ), 1989; and most recently Long Walk Home (the score for Rabbit-Proof Fence), July 2002.

For the past decade, Gabriel has primarily focused his energies on multimedia projects and his Real World label, which is why the score to Rabbit-Proof Fence (which opens Dec. 25 in the valley) is of significant note. You can partially thank megadirector Phillip Noyce (Dead Calm, Patriot Games, The Bone Collector) for this, since he commissioned the score from Gabriel.

"Since I first heard The Last Temptation of Christ--like scores of filmmakers around the world--I dreamed of getting Peter to do a score for me," says Noyce in his warmly gruff Australian brogue. "I've approached him on almost every film I have made in Hollywood, but none of them were ever his cup of tea."

That is, until recently. Noyce, who presently has two films out in limited release--the Australian independent feature Rabbit-Proof Fence and The Quiet American--offered both to Gabriel. "I said 'Peter, the budget for The Quiet American's music is half a million U.S. dollars, or I've got this other film ...,'" recalls Noyce. "So I told him the story of Rabbit-Proof Fence, and I couldn't help but admit that there was no money; the budget was nil for music. So he rang back two days later and said, 'I'll take the one that pays nothing.' Probably no one had ever before offered him no pay, and that alone was possibly extraordinarily disarming and overwhelming in its reverse attraction."

The film tells the true story of three half-caste Aboriginal girls who cross 1,500 miles of Australian outback to return home. Gabriel's score is rife with all of the sounds you would normally hear emanating from the harsh Australian landscape. Thus the noise of insects, bird calls, rain and wind combine with Gabriel's penchant for exotic rhythms and eerie, expansive ambience to create an ethereal aural collage.

Gabriel's use of intricate minimalism throughout the score conveys an overwhelming sense of emotional isolation and manages to capture all the texture of the Aussie outback. The music not only complements the film but also works as a stand-alone album that fits snuggly into the body of Gabriel's work.

Additionally, Gabriel's long period of silence was further broken by the release of his latest solo offering, Up, in September. Geared toward his more traditional fans, the album is full of vintage-sounding Gabriel songs, ranging from the Stygian grind of "Darkness" to the shuffling churgle funk of "The Barry Williams Show."

Up employs the same edgy ambient stylings explored on Long Walk Home, injecting them with the essential pop aesthetic of catchiness. The result is a Peter Gabriel album that resonates with darkly tinged melody augmented by sardonic lyricism.

When placed side by side, these two albums expertly illustrate why Gabriel has remained such an important force in pop music. He is able to straddle the line between introspective composer and songsmith with equal aplomb.
---
Peter Gabriel performs Sunday (Dec. 15) at 7:30pm at the HP Pavilion, 525 W. Santa Clara St., San Jose. Tickets are $46-$131 and are available through Ticketmaster (408.998.TIXS)
---
---
Send a letter to the editor about this story to letters@metronews.com.
---
[ Silicon Valley | Metroactive Home | Archives ]